Boring No More: Poloz Sends Canadian Volatility to 2-Decade High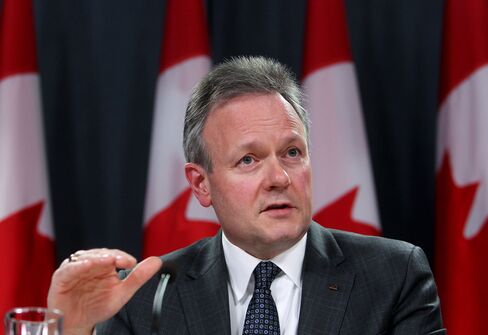 For Patrick O'Toole, the price swings Bank of Canada Governor Stephen Poloz has created in his nation's bond market may be the best trading opportunity he's seen in a long time.
With an unexpected interest-rate cut and sometimes shifting takes on the economic outlook, Poloz has injected something rarely seen in Canadian markets: volatility.
A gauge of bond market price swings is at its highest in at least two decades amid differences among investors over the direction of rates after a extended period when the central bank left no mystery about its next move.
"We've embraced volatility in all forms," O'Toole, a money manager at CIBC Asset Management, which oversees C$50 billion ($40 billion) of fixed income in Toronto, said by phone. "Some people are bullish. Some are bearish. That provides opportunity for people to take the opposite side of a trade, you can take a trade and run with it. We like to see that tug of war happening."
O'Toole has taken a bullish stance on lower rates by increasing the average duration of his portfolios to more than the 7.7 years his benchmark recommends. The potential extra yield generated from the trade has allowed him to counteract the "the negative impact of corporate bonds underperforming."
Expectations Swing
RBC Capital Markets recommended piling into corporate bonds last week, saying in a note that the securities have held up relatively well during the price swings and are due for a rally compared with government bonds.
The 90-day average of volatility for 10-year government bond yields rose this month to the highest since at least 1995, according to data compiled by Bloomberg.
Since the Bank of Canada's surprise rate cut in January, market expectations for another reduction have swung from a near certainty to 50 percent as investors parse the governor's speeches for clues.
The changes are abrupt after predecessor Mark Carney's bias toward higher rates and explicit forward guidance left little question about the direction of borrowing costs.
While investors in the U.S. often use options contracts to benefit from price swings, that's rarer in Canada, said Andrew Torres, chief investment officer at Toronto-based hedge fund Lawrence Park Capital Partners.
"It's much easier, much more liquid in the U.S.," Torres said by phone. The U.S. Treasury market is the world's largest at $12.6 trillion.
Divided Outlook
Investors who want to benefit from rising volatility in the Canadian market have to trust they can pick which way interest rates will move next, he said.
Economists are split on whether Poloz will add more stimulus in the second quarter, with nine surveyed in March expecting another cut, and eight in the one-and-done camp. Futures markets indicate an 85 percent likelihood of no rate change April 15, the Bank of Canada's next policy meeting.
"Poloz is very open-minded," Thomas Costerg, a New York-based economist at Standard Chartered Bank, who forecast easing at the start of the year. "It's true a lot of people in the market are surprised he isn't telegraphing what he's doing, and a lot of people had been used to guidance. I like his pragmatism. The flip side is it can increase confusion."
The confusion has sparked criticism from some investors including the world's biggest manager of bond mutual funds, Pacific Investment Management Co. Pimco fund manager Ed Devlin said in an interview last month he wanted higher yields to compensate for the risk of buying Canadian debt whipsawed by Poloz's policy pronouncements.
Canada Outperforms
"The re-entrance of some degree of volatility is probably a healthy thing and reflects the fact that the world is an uncertain place," said David Wolf, who oversees about C$7.5 billion of funds at Fidelity Investments in Toronto. "Some additional volatility is to be welcomed. Excess volatility is a scary thing for us as investors and for the central bankers too."
Canadian five-year bond yields are down 58 basis points to
0.76 percent since the start of the year, more than any other Group of 20 nation.
Canada's sovereign debt has returned 3.4 percent in 2015, compared with a 1.9 percent return for a Bank of America Merrill Lynch index of government bonds of developed nations. The U.S. Treasury component of the index has gained 1.6 percent.
Poloz continued to keep investors guessing last week, when he was in London, England. In a March 30 interview with the Financial Times, Poloz said the central bank has many options to combat the oil slump which was having an "atrocious" effect on the Canadian economy. Those include low rates and asset purchases.
'High Time'
The comments struck a different note from a speech he made days earlier in London, when he suggested the rate cut was sufficient stimulus to spur an economic recovery that will revive by mid-year, saying easier financial conditions and stabilizing oil prices "made us feel increasingly comfortable with the amount of insurance we had already taken out."
"We want to see interest rates be somewhat volatile," said O'Toole at CIBC. "It's a sign we're getting back to normal conditions in the bond market and away from central bank medication. It's high time we should be getting back to normal."
Before it's here, it's on the Bloomberg Terminal.
LEARN MORE