Bombing Conceded, Tsarnaev Trial Moves Toward Next Phase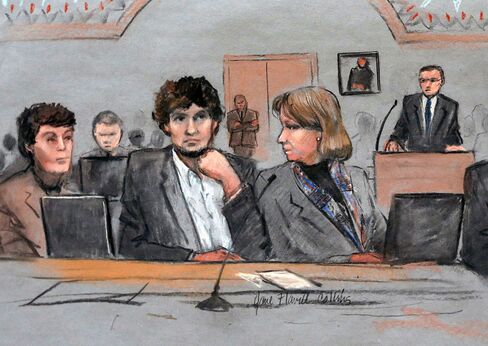 A prosecutor asked jurors in the Boston Marathon bombing case to convict Dzhokhar Tsarnaev at the end of a trial that began with a defense lawyer conceding his guilt.
The jury began deliberating Tuesday the 30 charges stemming from the attack and a botched getaway plan in which Dzhokhar's brother Tamerlan died in a police shootout.
Tsarnaev's attorneys used the 16-day proceeding not to contest whether he helped his brother kill three and injure hundreds in the attack, but to set the stage for the penalty phase.
The former college student, also accused of fatally shooting a police officer in the days after the bombing, faces a possible death sentence. The same Boston jury will decide his punishment later if it convicts him.
"The defendant brought terror to backyards and main streets," Assistant U.S. Attorney Aloke Chakravarty told the jury Monday in federal court in Boston. "The defendant thought his values were more important than the people around him."
Tsarnaev chose "a family day," Chakravarty said. "He chose a day when the eyes of the world would be on Boston."
More than 260 people were injured when two homemade bombs exploded near the marathon finish line on April 15, 2013. Since then, Boston residents have been transfixed by the drawn-out case and divided over whether death or life in prison is the appropriate. penalty.
Four witnesses testified for the defense, compared with 92 for the government.
Guilt Admitted
Guilty verdicts are almost certain. Tsarnaev's defense attorney Judy Clarke admitted his guilt on the first day of trial with a simple declaration: "It was him."
Clarke, who has negotiated life sentences for other notorious criminals including "Unabomber" Ted Kaczynski, set the stage for a defense strategy aimed at persuading at least one juror to spare Tsarnaev's life. A death sentence would require a unanimous jury.
She told jurors that Dzhokhar was led by his older brother, Tamerlan.
Dzhokhar Followed
"Tamerlan and Dzhokhar were brothers, but they're both individual people who thought differently, acted differently and had different roles in the conspiracy charged," Clarke said in closing arguments. "The evidence is Tamerlan built the bombs, Tamerlan killed Officer Collier," she said, referring to Massachusetts Institute of Technology policeman, Sean Collier. "Tamerlan led, and Dzhokhar followed."
She told the jurors, "It was Tamerlan buying the pressure cookers. Tamerlan bought the BBs that were loaded into the bombs."
During the trial, Tsarnaev didn't look at victims who had lost limbs in the attack as they testified about lying in pools of blood and contemplating their own deaths.
"I looked down and saw my legs: pure carnage. I could see my bones and my flesh sticking out," Jeff Bauman, a former Costco worker who lost both legs in the first explosion at the finish line, testified on the second day of the trial. "I was thinking this is how it's going to end."
William Richard, the father of a fatally injured 8-year-old, Martin, said that when he saw his son's catastrophic injuries, he knew the boy wouldn't survive.
The father told jurors he realized he had to focus his energy on saving his 7-year-old daughter Jane, who lost a leg in the explosion.
Also killed were Krystle Campbell, 29, and Lingzi Lu, 23, a Boston University graduate student. Both died painful deaths from blast injuries, burns and shrapnel.
Prosecutors portrayed Tsarnaev as a self-radicalized terrorist who took revenge on marathon spectators out of anger over U.S. foreign policy affecting Muslims. He confessed his motives in pencil on the interior of a boat where he hid during a massive manhunt, the U.S. said.
Text Message
Evidence included an exchange of text messages on Dec. 25, 2012, in which Tsarnaev discussed options for the future with an unidentified friend.
"There's 1 other option bro. Highest level of Jannah," Tsarnaev said, referring to the Islamic concept of heaven or paradise, according to evidence presented at the trial.
Born in Chechnya and naturalized as a U.S. citizen in 2012, seven months before the attack, Tsarnaev conspired with his brother to detonate the pressure-cookers bombs, investigators testified.
Packed Device
The brothers packed the devices with shrapnel and explosives harvested from fireworks and operated them with radio-controlled car parts and Christmas tree lightbulbs, Federal Bureau of Investigation agents said.
The bombs probably were made in the Cambridge apartment where the entire Tsarnaev family once lived, one agent testified.
The brothers bomb-making instructions allegedly came from an al Qaeda magazine article titled, "How to Build a Bomb in the Kitchen of Your Mom."
During the trial, Tsarnaev's defense team of five attorneys tried to highlight evidence that the suspect's late older brother was the dominant figure in their crimes.
Victim's Testimony
Carjacking victim Dun Meng, whose Mercedes Benz sport utility vehicle was commandeered by the brothers as their getaway car, testified it was Tamerlan Tsarnaev who forced his way into the vehicle, pointed a gun and said, "Do you know the Boston Marathon explosions? I did it, and I just killed a police officer in Cambridge."
During the carjacking, the younger Tsarnaev was more interested in whether he could play his phone through the car's sound system, said Meng, who escaped unharmed when the brothers stopped for gas and snacks.
An FBI agent testified that Tamerlan's fingerprints were on the Ruger handgun used to kill Collier, the MIT police officer, in a failed attempt to steal his weapon. Dzhokhar's fingerprints were found on a pellet gun left behind after a shootout with police, the agent said.
It was Dzhokhar, however, who lobbed another pressure-cooker bomb at the police in suburban Watertown during the shootout in a residential neighborhood and tried to run them down when he fled in the Mercedes, striking and killing his brother instead, according to trial testimony.
Bomb Part
And it was Dzhokhar who borrowed the gun a month before the bombing from a former high school classmate and drug dealer, according to the friend, Stephen Silva, who testified as part of a plea bargain to resolve charges of gun possession and selling heroin.
Silva told jurors that Tsarnaev told him he wanted to borrow the gun to rob some college students. When he later asked Tsarnaev to return the weapon, "he just kept coming up with excuses," Silva said.
Silva last saw his old friend in early April 2013 when Tsarnaev bought marijuana from him and offered another excuse for not having the gun, he said.
The four defense witnesses in the trial included an FBI fingerprint analyst who testified that only Tamerlan's prints were found on bomb debris recovered from the finish line and on a remote-control device.
Coordinated Attack
"The defendant and his brother did this together," Chakravarty, the prosecutor, told jurors. "It was a coordinated attack to maximize the terror."
Clarke said her client "bought into his brother's plan and his brother's actions" and "was convinced that it was right."
"We are not asking you to go easy on Dzhokhar," she said. "We are not asking you not to hold him accountable for what he did. The horrific acts we've heard about deserve to be condemned, and the time is now."
Prosecutor William Weinreb said blaming the brother was "an attempt to sidestep responsibility."
"You should find him guilty because he is guilty," he said of Dzhokhar. "And the things his brother did also make him guilty."
The case is U.S. v. Tsarnaev, 1:13-cr-10200 U.S. District Court, District of Massachusetts (Boston).
Before it's here, it's on the Bloomberg Terminal.
LEARN MORE