U.K. Parties Trade Tax Claims as Poll Deadlock Persists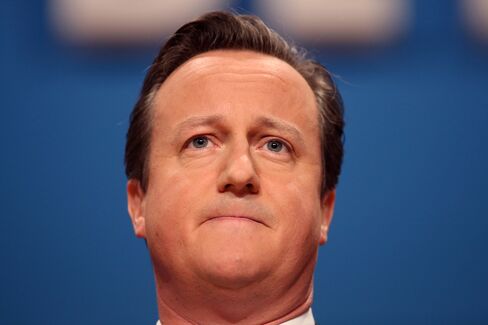 U.K. Prime Minister David Cameron marked the beginning of the financial year Monday by warning that the opposition Labour Party would raise taxes, as he sought to break the deadlock in polls ahead of May 7 elections.
Emphasizing cuts in taxation since he took office in 2010 - - and taking sole credit for a policy first suggested by his coalition partner Liberal Democrats -- Cameron said workers would be "punished" if Labour leader Ed Miliband succeeded him as prime minister.
"Tax cuts with us, tax rises with Ed Miliband and Labour," Cameron said in a speech in Bristol, southwest England, on Monday. "Work rewarded with us, work punished with them. That's the choice."
Cameron's Conservatives and Labour remain neck-and-neck in opinion polls after a debate between party leaders on April 2 failed to give either party an advantage. Claims and counterclaims on tax have become increasingly acrimonious since the Institute of Fiscal Studies said on March 30 that a Conservative assertion that families would pay 3,028 pounds ($4,518) more in tax under Labour is of "little value."
Cameron repeated the claim in his speech while saying that 94 percent of working families will benefit from tax changes coming in to force in the new tax year.
Ed Balls, Labour's finance spokesman, parried by saying working families are worse off while millionaires have seen their taxes cut under Cameron's Chancellor of the Exchequer, George Osborne. He also repeated Labour's assertion, ruled out by Cameron in the House of Commons on March 25, that a Conservative government would increase the 20 percent value-added tax.
'Friends First'
"David Cameron and George Osborne ditched the idea that we are 'all in this together' and looked after their friends first," Balls said in a speech in Yorkshire, northern England. "Cutting the top rate of tax for the very highest earners, while raising VAT on families. It's the Tory way: Millions pay more, millionaires pay less."
Balls cited IFS figures that Labour says show an average family is 1,100 pounds a year worse off as a result of tax and benefit decisions made since 2010. He also pledged not to increase VAT, National Insurance contributions and the basic or second-highest income tax rate if his party wins in May.
While Labour has said it would increase the top rate of tax for people earning more than 150,000 pounds to 50 percent from 45 percent, Osborne declined to rule out cutting the rate in an interview with Sky News. "That's not our plan," he said, without saying it wouldn't happen.
Reverse Gains
Deputy Prime Minister Nick Clegg, leader of the Liberal Democrats, sought to remind voters that it was his party's idea in 2010 to raise the threshold at which people start paying tax to 10,600 pounds from 6,475 pounds. The move is saving "a typical tax payer" 825 pounds a year, he said.
Cameron, who said in answer to questions Monday that "this tax cut has been delivered by a Conservative prime minister and a Conservative chancellor," said in 2010, Britain "simply couldn't afford" the change, which was on the front page of the Liberal Democrat manifesto. Clegg said it only happened because his party joined the Conservatives in coalition, while warning Labour would reverse the gains for working people.
"Labour's short-term economic plan will lead to mounting borrowing and leave taxpayers short by hundreds of pounds, which is unfair and reckless," Clegg said in an e-mailed statement. "Ed Balls and Ed Miliband's tax plans are economically illiterate."
Polls published Sunday showed the Conservatives and Labour still vying for the lead. A YouGov survey of 1,906 people in the Sunday Times put the Conservatives ahead on 34 percent and Labour with 33 percent while an online Opinium poll of 1,959 adults for the Observer showed each party with 33 percent.
The YouGov poll showed Clegg's Liberal Democrats at 10 percent and the U.K. Independence Party at 13 percent, while the Opinium poll had them at 7 percent and 14 percent, respectively.
Before it's here, it's on the Bloomberg Terminal.
LEARN MORE