Tokyo-to-Milan Steelmaker Spat Opens Door for Brazil Tycoon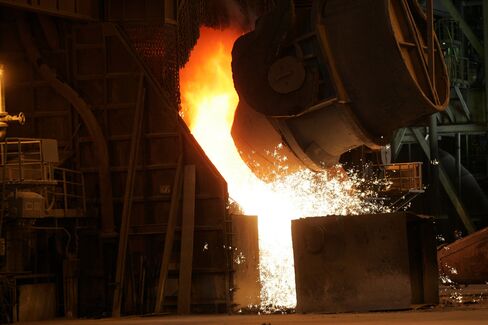 What started as an alliance to bring balance and direction to Brazil's second-largest steelmaker has become a feud spanning three continents that's diluting the company's efforts to navigate a global commodities rout.
On one side is Japan's Nippon Steel & Sumitomo Metal Corp., with more than 50 years experience quietly steering through the perilous waters of Brazil's businesses elites. On the other is Techint, an Italian-Argentine group with the track record and motivation to return the company to profitability and recoup an investment of almost $3 billion.
Just three years after Nippon and Techint agreed to jointly control Belo Horizonte, Brazil-based Usiminas, the union is in disarray. Dozens of lawyers and advisers are helping wage a battle for boardroom power that's seen voting shares almost triple in the past six months, the world's best steel-stock performance, even as non-voting shares slump along with the industry's prospects. The spat is opening the door for minority shareholders such as billionaire Lirio Parisotto and Grupo BTG Pactual to gain a seat on the board, and possibly choose a chairman, at a meeting Monday.
"When you have a crack in the controlling group, you are making space for minorities," Ricardo Kim, an analyst for XP Investimentos in Sao Paulo, said by telephone. "It doesn't resolve the issue because the two controllers are still fighting."
Recoup Investment
Nippon's involvement in Usiminas dates back to the late 1950s, when Brazil's industrialization push led the government of Juscelino Kubitschek to team up with Japan in a steel venture.
The 2012 agreement with Techint, owned by the billionaire Rocca family, whereby the Italian group would name a chief executive officer and Nippon would propose a chairman, brought hopes of an operational U-turn as management focused on cutting costs, boosting efficiencies and selling assets.
The stock had slumped to 6.57 reais on July 24, just six months after Techint paid 36 reais per voting share through subsidiaries including Ternium SA. The Italian group's hands-on approach started to bear fruit and in the first half of 2014 Usiminas posted its best earnings before interest, taxes, depreciation and amortization in four years, even with Brazilian economic growth grinding to a halt.
Disharmony between the two controllers was unveiled in late September.
In a heated board meeting that lasted several hours, Chairman Paulo Penido cast a tie-breaking vote to fire CEO Julian Eguren and two other Techint-appointed officials over alleged financial misconduct. The executives deny any wrongdoing and have since taken legal action against Penido seeking damages in a Sao Paulo court. Penido said in e-mailed comments that the dismissal followed board rules.
Stumbling Block
The fate of the dismissed executives continues to be a stumbling block for reconciliation. When Techint's Paolo Rocca met with Nippon CEO Kosei Shindo in Moscow in October during a World Steel Association conference, talks broke down after Rocca sought the reinstatement of the fired trio, according to people with knowledge of the matter, who asked not to be identified. Ternium is challenging the dismissal in Brazilian courts.
The premium of Usiminas voting shares over preferred stock, which don't allow holders to cast a ballot on corporate policies, widened to a record 18.14 reais on March 24 as the controller battle heated up before Monday's meeting. In the two years through June 2014 the shares traded at an average discount of 94 centavos, according to data compiled by Bloomberg. The preferred shares average more than five times more trading volume than the voting stock, the data shows. They rose 1 percent to 5.05 reais at the close in Sao Paulo on Monday, while the ordinary shares declined 4.6 percent to 17.28 reais.
BTG Nomination
Billionaire Andre Esteves' Grupo BTG Pactual, Brazil's only publicly traded investment bank, is also vying for influence at Usiminas, or Usinas Siderurgicas de Minas Gerais SA, after nominating Marco Antonio Bologna as its board candidate. BTG wants to contribute to the development of Usiminas and Bologna's management experience will be decisive for that, the bank said in an e-mail response to questions.
"In the last few months, BTG Pactual bought ordinary shares of Usiminas, directly and through an exclusive investment fund, with the goal of capturing their valuation potential," the bank said.
Both Usiminas and Techint declined to comment for this story. Nippon Steel didn't respond to an e-mail seeking comment.
Ternium scored a legal victory in late February when an appeals court judge in the Brazilian state of Minas Gerais ruled in favor of reinstating Eguren as CEO. Two other judges in the case asked for more time to study the request and a crucial ruling is expected later this month.
Still Hope
The controllers didn't present a consensus candidate for chairman in a meeting between the two groups before the shareholders' meeting, Penido said in an interview at Usiminas headquarters before the assembly began at 4 p.m. local time.
Parisotto, who is worth $1.6 billion according to the Forbes billionaire ranking, has been put up as director by some minority shareholders after his Geracao L Par fund built a 5.2 percent stake in Usiminas preferred shares and 1 percent of voting stock. He didn't reply to a request for comment sent by e-mail via an adviser.
As of April 2, director Marcelo Gasparino was the only chairman candidate after a nomination by asset manager Tempo Capital Gestao de Recursos Ltda, Usiminas said in a filing. Tempo also nominated Mauro Cunha, president of Brazil's association of minority shareholders Amec, as board candidate.
The controller dispute coincides with an adverse outlook for the steel industry in Brazil where a stagnating economy signals weak demand.
"One thing is to be on a ship in the middle of a storm with someone controlling the ship and very different is being in the middle of the storm with no one in charge," Artur Losnak, an analyst at Fator Corretora in Sao Paulo, said by telephone. "We will still have a lot of problems ahead."
Before it's here, it's on the Bloomberg Terminal.
LEARN MORE