Deposit Levy at 20-Year Low Helps Japan Banks as Economy Falters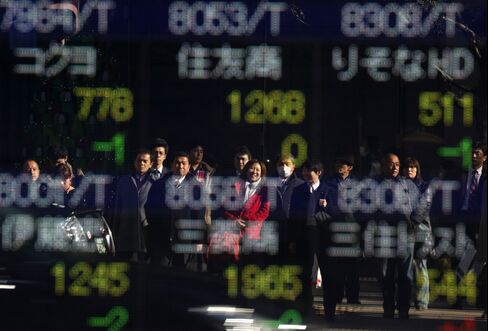 The state-run fund that bailed out Japan's banks with taxpayer money from the end of the 1990s is now so flush with cash that it is cutting what it charges lenders to protect savers.
The Deposit Insurance Corp. of Japan lowered to 4.2 basis points from 8.4 basis points what it charges banks to insure deposits and then uses as a reserve to rescue failed lenders. The cut to the lowest rate since early 1996 reflects the recovery of the local financial system, and will boost banks' profits, though the savings probably won't spur lending, according to BNP Paribas SA and Keefe Bruyette & Woods Inc.
More than two years into his term, Prime Minister Shinzo Abe is struggling to boost growth in the world's third-largest economy, which is still feeling the aftereffects of the collapse of a 1980s asset bubble. Companies expect to cut capital investment in the year started April 1, even as Toyota Motor Corp. plans to spend $1.3 billion to build plants in China and Mexico, the Nikkei newspaper reported last week, in a sign that Japanese cash will be used overseas rather than at home.
"Corporates are basically saying we are not convinced by this economic recovery, and we're not willing to invest on the basis of build it and they will come," said David Threadgold, the Tokyo-based Asian research head at Keefe Bruyette & Woods, a boutique investment bank. "A lot of people are trying to learn about the positive and the negative of the Japanese fiscal and macro experience."
ECB Stimulus
The DICJ, the Japanese equivalent of the U.S.'s Federal Deposit Insurance Corp., had a surplus of 1.69 trillion yen ($14 billion) at the end of March 2014, versus a deficit of 4 trillion yen in 2003. The fund provided 17.8 trillion yen to 168 failed institutions from November 1996 to March 2003 under a blanket guarantee program, in addition to more than 8.6 trillion yen in capital injections to lenders, DICJ data shows.
The yield on long-term bonds sold by several European nations including Germany are now lower than Japan's as the European Central Bank seeks to fend of the threat of deflation with its own quantitative easing program. German's 10-year bunds yielded 0.19 percent on April 3, down one basis point in the week, having touched a record-low 0.151 percent. The yield on similar-maturity Japan notes is 0.335 percent.
"Every time a central banker talks about the dangers of deflation, the next word words out of his month are likely to be Japan," said Threadgold. "I am sure there are whole study groups in the ECB who do nothing but try to avoid the Japanese experience of deflation."
Bank Profits
Operating profits for 86 lenders in the Topix Banks Index were at their highest last year since 2006, generating 35.25 yen per share, according to data compiled by Bloomberg. Non-performing loans at Japanese banks fell to a record low of 1.7 percent in September, down from a high of 8.4 percent in 2002, according to data from the Financial Services Agency compiled by Bloomberg.
Net income at Mitsubishi UFJ Financial Group Inc., Sumitomo Mitsui Financial Group Inc. and Mizuho Financial Group Inc., the nation's three biggest banking groups, increased a combined 22 percent in the quarter ended Dec. 31 to 718.9 billion yen, according to calculations derived from nine-month earnings statements.
Inflation Stalls
Even as bank profits grew, Japan's economy stuttered out of its latest recession in the final three months of 2014. Data on consumer spending, retail sales and industrial output all showed declines, and consumer price gains halted in February.
Large companies plan to cut capital expenditures by 1.2 percent this fiscal year, according to the BOJ's Tankan survey released April 1.
The low profitability of Japanese banks compared with global peers means that the cut in the DICJ's rate is "significant" for their bottom line, Moody's Investors Service said in a note on April 2. While lenders had no incentive to take credit risk during years of deflation, they are being pushed by the BOJ driving down sovereign note yields, according to Graeme Knowd, an associate managing director at Moody's in Tokyo.
"Japan's deposit insurance system has evolved from one that was dealing with a crisis," Knowd said. "If they don't take credit risk by lending they face ever decreasing profits. No risk, no return."
Before it's here, it's on the Bloomberg Terminal.
LEARN MORE