Ukraine Seeks $15.3 Billion From Restructuring of Pre-2014 Debt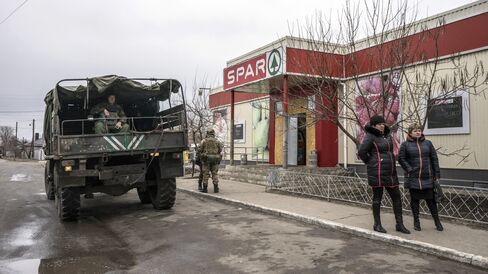 Ukraine's government approved a list of debt that should be restructured under an IMF program to save the nation $15.3 billion, including $3 billion in Eurobonds sold to Russia.
Ukraine's sovereign and corporate debt incurred before Feb. 28, 2014 is included, the Finance Ministry said Saturday on its website. The last category covers state banks, the railways operator and the city of Kiev, according to the statement.
Ukraine is trying to reach an agreement with creditors including Franklin Templeton, which holds about $7 billion in the debt, to save $15.3 billion through the restructuring. Russia says it bought the Eurobonds in 2013 to support the government of then-Ukrainian President Viktor Yanukovych and is already contributing by not demanding early repayment.
"Up to now, we've been repeatedly saying that Russia doesn't plan to restructure the Ukrainian debt and isn't in talks on the issue," Svetlana Nikitina, an aide to Russian Finance Minister Anton Siluanov, said on Saturday by phone. The ministry hasn't seen the Ukrainian decision yet, she said.
The list of debts included may be published as soon as Monday, the Ukrainian Finance Ministry said in response to questions from Bloomberg.
The decision on debt comes amid a relative lull in the one-year military conflict in two eastern Ukrainian regions that led the government in Kiev to seek assistance from the International Monetary Fund. While casualties have waned following a cease-fire agreed on Feb. 12, Ukraine still has to complete negotiations on losses for international bondholders by May to keep funds flowing from the IMF.
Three Killed
On Saturday, the situation "worsened" in the conflict area, Ukrainian military spokesman Andriy Lysenko said. Three Ukrainian servicemen were killed in a mine explosion in the east of the country near Donetsk, while two were wounded.
Pro-Russian "militants attacked our positions near Donetsk airport, in the areas of Avdiyivka and Opytne," he told reporters in Kiev on Saturday. Half of the cease-fire violations were registered in those areas.
Ukraine said separatists used heavy weapons, which both sides were supposed to pull back under truce accords, to attack government troops at least five times yesterday. Militants in Donetsk also accused government forces of breaches, according to a statement posted by the rebel-controlled DAN news agency.
Russia is taking part in talks on the possibility of the conflicting sides withdrawing some weapons of calibers below 100 millimeters, Foreign Minister Sergei Lavrov said on Saturday in Bratislava. An agreement on that would bolster previous cease-fire agreements and help build trust, he said.
Ukraine, the U.S and the European Union accuse Russia of supplying weapons and personnel to insurgents. Russia has repeatedly denied involvement in the conflict.
Before it's here, it's on the Bloomberg Terminal.
LEARN MORE