U.S. Regulators Consider Probe of Ford Sedan Lighting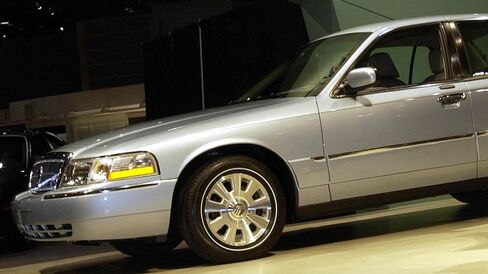 The U.S. National Highway Traffic Safety Administration said it will reconsider investigating more than half a million Ford Motor Co. cars with possibly defective lighting controls. Six years ago, the agency decided not to recall the large cars.
The Transportation Department said in a notice posted on its website that the Office of Defects Investigation received a petition from the North Carolina Consumers Council Inc. requesting an investigation of headlight and exterior lighting failures on 517,945 Ford Crown Victoria and Mercury Grand Marquis sedans from the 2003 to 2005 model years. The lighting malfunction is said to occur while the vehicles are in motion.
The cars had previously been investigated from November 2008 to March 2009, when the department concluded "a safety-related defect has not been identified at this time and further use of agency resources does not appear to be warranted." The consideration of the North Carolina petition began April 1.
The lighting incidents have prompted 604 consumer complaints through April 1, including seven reports of vehicle crashes relating to the failure of the front lighting control module, according to the consumers council.
Ford, based in Dearborn, Michigan, had previously extended warranty coverage for lighting control failures. Ford spokeswoman Kelli Felker wasn't immediately available to comment.
(Corrects characterization of agency's investigation in the headline and first paragraph of story published April 4.)
Before it's here, it's on the Bloomberg Terminal.
LEARN MORE