Treasury Rally's Demise Derailed Again by Weakening Job Growth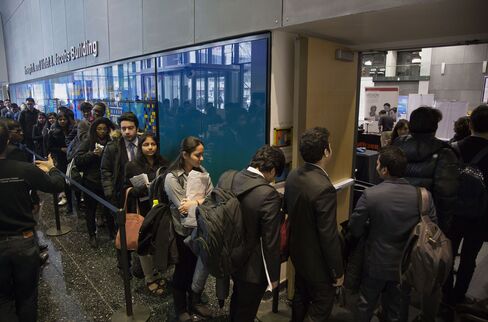 The long-forecast end of the bull market in Treasury bonds just got pushed back again.
U.S. government debt surged Friday, sending yields to two-month lows, after a Labor Department report showed the economy added the fewest jobs since December 2013. That dealt another blow to expectations that a Fed rate hike would cut into bond-market returns this year.
"People bad-mouth them, but they've been a great-performing asset class," said Brian Jacobsen, the Menomonee Falls, Wisconsin-based chief portfolio strategist for Wells Fargo Advantage Funds. "They're the place you go when you're seeking some sort of sanctuary from bad data."
Yields on benchmark 10-year notes fell 12 basis points this week to 1.83 percent, including a seven-basis points drop after the jobs report. The 2 percent benchmark note due in February 2025 rose 1 3/32, or $10.94 per $1,000 face value, to 101 14/32, according to Bloomberg Bond Trader prices.
Analysts are predicting that yields will climb to 2.57 percent by the end of the year as the Fed begins to normalize monetary policy, according to the weighted average in a Bloomberg survey. But forecasters got it wrong in 2014, predicting a rise in 10-year yields, only to see them finish the year lower.
U.S. government securities have gained 1.9 percent through April 2, according to the Bloomberg Treasury index, after posting a 6.2 percent return last year. The debt has notched gains in five consecutive quarters, the longest streak since at least 2010.
Rate Expectations
March had the slowest U.S. job creation since December 2013, according to the Labor Department. The 126,000 increase in March was weaker than the most pessimistic forecast in a Bloomberg survey. The unemployment rate remained at 5.5 percent.
"There's no way to dress this up, it was a weak report," said Kathy Jones, fixed-income strategist with Charles Schwab & Co. "It probably pushes the first rate hike back to September."
The odds of a June liftoff implied by fed funds futures fell to 10 percent after the report from 18 percent Thursday. The implied probability of a September rate rise also slumped after the release, dropping to 34 percent from 39 percent.
Buying Opportunity
Options on Eurodollar futures imply traders see only a 47 percent chance the Fed will raise rates this year, and just a 55 percent chance it climbs from near zero by March 2016.
At the New York office of Deutsche Bank AG's Private Wealth Management unit, Gary Pollack took Friday's decline in yields as an opportunity to buy bonds. He isn't sure the jobs data was the start of a trend, though.
"Because it is an outlier, we'll have to wait," said Pollack, who manages $12 billion as head of fixed-income trading. "More importantly, the Fed will also have to wait. That's why the market is reacting so happily."
Data on jobs creation has been one bright spot for the U.S. economy, as inflation remains low. Retail sales, durable-goods orders and housing starts all recently fell short of forecasts.
"We've hit a slower growth rate here at the beginning of this year, and the market's adjusting to that reality," said Jones of Charles Schwab. "Those numbers were more in line with the growth rate we thought we were seeing."
Before it's here, it's on the Bloomberg Terminal.
LEARN MORE