Kenya Holds Five Over Attack as Al-Shabaab Warns of Violence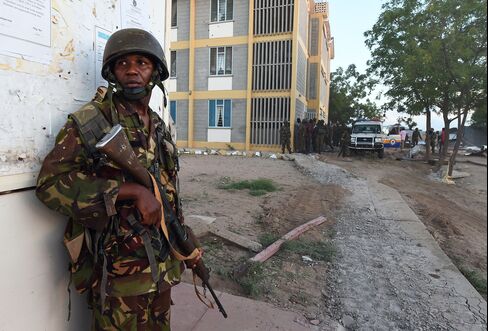 Kenyan authorities arrested five people in connection with the attack on a college that left almost 150 people dead as the al-Qaeda-linked group that claimed responsibility for the killings warned of more violence.
"They are under interrogation and we hope to make more arrests with their leads," Mwenda Njoka, a spokesman for the East African nation's Interior Ministry, said by phone Saturday from the capital, Nairobi. Four of the people were detained as they attempted to cross the border into Somalia, he said.
At least 147 people were killed and 79 injured when al-Shabaab gunmen stormed Garissa University College, about 330 kilometers (204 miles) northeast of Nairobi, before dawn on April 2. It was the deadliest attack since al-Qaeda bombed the U.S. Embassy in Nairobi in 1998, killing more than 200.
Al-Shabaab has waged an insurgency in Somalia since 2006 in a bid to impose Islamic law. Kenya deployed troops there in 2011 following attacks on tourists and aid workers. The group responded by intensifying attacks on sites including bars, churches. In 2013, an assault on Nairobi's upmarket Westgate shopping mall left 67 dead.
On Saturday, al-Shabaab warned of more violence.
"Our message to you will be written not with words, but with the blood of your people," it said in a statement published on the Calamada website. "Dig their graves and prepare their coffins from now."
Accomplices Sought
Kenyan President Uhuru Kenyatta vowed to bring the perpetrators to justice and said the country's security forces are pursuing leads on other accomplices in the attack.
The government has offered a $220,000 reward for the capture of Mohammed Mohamud Kuno, a suspected member of al-Shabaab who the authorities say helped organize the attack.
Authorities have evidence Kuno was "highly involved" in at least two other attacks in Kenya last year, Njoka said. A Kenyan national and former teacher, Kuno was a commander for the militants in the Jubaland region of Somalia, he said.
"I guarantee Kenyans that my administration shall respond in the severest ways possible to the Garissa attack, and any other threat to us," Kenyatta said in an address to the nation broadcast on state television.
Declaring three days of national mourning, Kenyatta called on local and religious leaders to help bring unity to the country and "ensure that our justified anger does not spill over and lead to the victimization of anyone."
Al-Shabaab said the university victims were separated according to their religion and Christians were executed. That mirrored a tactic used in at least one previous assault in which authorities said Kuno was involved -- in Mandera in northern Kenya last year when 28 bus passengers were shot dead.
Before it's here, it's on the Bloomberg Terminal.
LEARN MORE