Treasuries Climb on Jobs as S&P 500 Futures, Dollar Fall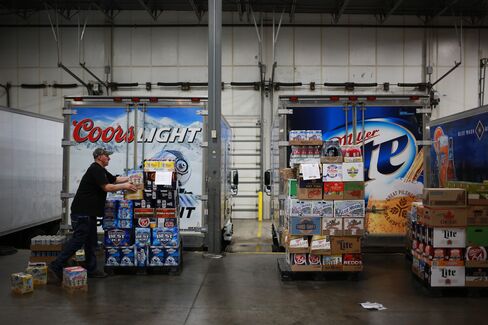 Treasuries climbed and the dollar weakened after worse-than-forecast U.S. payrolls bolstered the case for keeping interest rates lower for longer. U.S. stock futures tumbled amid concern economic growth softened in the first quarter.
The yield on 10-year Treasuries dropped 7 basis points to
1.84 percent at 12 p.m. in New York, reaching a two-month low. Standard & Poor's 500 Index futures lost 1 percent and the Bloomberg Dollar Spot Index slid 0.8 percent. The MSCI Emerging Markets Index topped 1,000 for the first time this year in its biggest weekly gain since 2012. Markets across Asia, the U.S. and Europe were closed for holidays Friday.
Payrolls increased by the least since December 2013 and the jobless rate held at 5.5 percent. The Labor Department data capped a week of reports suggesting the economy is losing momentum, calling into question whether the recovery is strong enough to justify the Federal Reserve raising rates at the same time fueling speculation that signs of a slowdown will hurt earnings.
"It's disappointing because we had some momentum going here and this is a bad number," Larry Peruzzi, the Boston-based director of international trading at Cabrera Capital Markets LLC, said by phone. "I don't think the Fed is going to change any wording, they've been very clear, so the first reaction is to sell the equities. Futures are telling us we may be in for a little bit of a selloff on Monday."
Markets Closed
While U.S. stock exchanges were closed on Friday, futures contracts traded until 9:15 a.m. in New York. The S&P 500 rose
0.4 percent on Thursday, leaving it 0.3 percent higher on the week.
The Bloomberg gauge tracking the dollar against 10 of its most-traded peers retreated 2.4 percent since the Fed's March 19 meeting, when the central bank cut its outlook for rates. The dollar weakened 0.9 percent to $1.1098 per euro on Friday and was down 0.6 percent against the yen.
Employers increased payrolls by 126,000 workers, weaker than the most pessimistic forecast in a Bloomberg survey and following a 264,000 gain a month earlier that was smaller than initially reported, the Labor Department said. The median forecast in a Bloomberg survey of economists called for a 245,000 advance. Average hourly earnings rose 2.1 percent from a year earlier.
Investors are parsing the data for clues on the timing of the Fed's first interest-rate increase since 2006. The employment sector has been the brightest spot in the economic recovery. Other economic reports in early 2015 have been the most disappointing in years, with retail sales slumping in January and February, residential construction weakening and manufacturing cooling.
Chair Janet Yellen said March 27 that she expects to raise rates this year, and that subsequent increases will be gradual.
Fed Liftoff
Futures showed traders pushed out expectations for the central bank to begin tightening monetary policy into next year. The rate for fed funds futures for December fell four basis points to 0.34 percent, indicating about one-in-three odds of a rate increase by the Fed's meeting that month.
"This puts the Fed further and further behind," said Thomas Di Galoma, head of fixed-income rates and credit at ED&F Man Capital Markets in New York.
The yield on 10-year Treasuries dropped as low as 1.80 percent, the least since Feb. 6.
The emerging-markets stock index advanced as much as 4.5 percent over five days, the biggest such gain since September 2012, on the back of a four-day surge in Hong Kong-listed Chinese shares before the Easter holiday.
Russia's Micex Index was little changed, advancing 7 percent on the week. Turkey's benchmark gauge jumped 1.6 percent on Friday.
Iran Deal
The Shanghai Composite Index climbed 1 percent after falling as much as 0.9 percent in early trade. The gauge is up 89 percent since the end of June. China's securities regulator approved 30 initial public offerings for April.
Just four of the 33 industry groups on Japan's Topix retreated today. The gauge capped its 10th advance in 11 weeks.
Australia's dollar fell to its weakest level versus the New Zealand currency in at least 30 years. The Aussie dropped to as low as NZ$1.0054.
Iran and world powers said they reached an outline accord over nuclear arms. The deal announced in Lausanne, Switzerland, on Thursday doesn't commit either side to immediate action, and leaves three more months for diplomats to fill in details. The news sent Brent crude 3.8 percent lower Thursday amid speculation an agreement will mean more Iranian oil entering global markets. Oil-futures weren't trading in New York or London Friday.
Iron ore futures on the Dalian Commodity Exchange fell as much as 2.6 percent to the lowest since trading began in October
2013. Ore with 62 percent content at Qingdao in China plunged 11 percent this week to the lowest level since 2005, based on daily and weekly data from Metal Bulletin and annual benchmarks compiled by Clarkson Plc, the world's largest shipbroker, for ore delivered to the world's biggest consumer.
Before it's here, it's on the Bloomberg Terminal.
LEARN MORE