Yemeni Rebels Strengthen Positions in Strait, Djibouti Says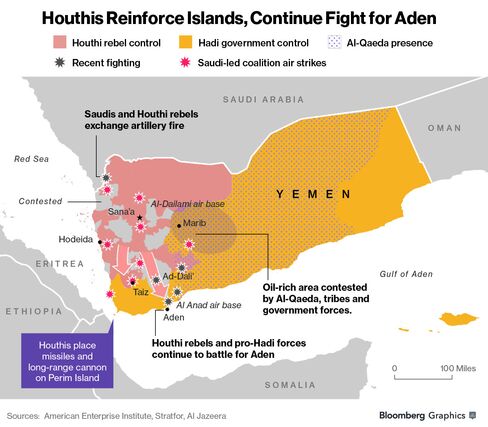 Houthi rebels in Yemen have strengthened their positions on two islands in the strait of Bab el-Mandeb, deploying weapons that may put commercial and military vessels at risk, Djibouti's foreign minister said.
The fighters have placed missiles, long-range cannons and "small rapid boats" loaded with heavy weaponry on Perim, the island that divides the strait into two channels between Djibouti and Yemen, Mahmoud Ali Youssouf said in an interview Thursday in Djibouti City. The Houthis are also reinforcing their positions on a smaller island in the area, he said.
"They are preparing themselves, at least to defend themselves if there is a blockade, or to attack vessels in the strait of Bab el-Mandeb if they feel that they are threatened when it comes to the control of the coastal areas of Yemen," Youssouf said. "The prospect of a war in the strait of Bab al-Mandeb is a real one."
The Bab el-Mandeb is the fourth-busiest oil and fuel shipping bottleneck in the world by volume. It's located between Yemen, Djibouti and Eritrea, and gives crude tankers access to the Red Sea as well as the Gulf of Aden and the Arabian Sea. The strait is 18 miles wide at its narrowest point, according to the U.S. Energy Information Administration.
Saudi Arabia has assembled a coalition of Sunni Muslim countries to carry out airstrikes against the Houthis, who have seized much of the country and forced President Abdurabuh Mansur Hadi to flee to Riyadh, the Saudi capital. The rebels have formed an alliance with former President Ali Abdullah Saleh, who still commands the loyalty of parts of the army.
Safe Passage
Youssouf said coalition forces must remove the weapons from the islands in order to ensure the safe passage of ships through the strait. In 2013, 3.8 million barrels a day of crude and oil products flowed through Bab el-Mandeb, EIA data show. More than half of the shipments moved to the Suez Canal and SUMED Pipeline, which link Egypt's ports of Ain Sukhna on the Red Sea and Sidi Kerir on the Mediterranean.
"All commercial and military vessels that pass through the strait of Bab el-Mandeb are within the reach of those arms and missiles," Youssouf said. "It's a big danger, for all of us not only Djibouti, but all the commercial vessels, military vessels."
Coalition forces carried out three air strikes on Perim on Thursday night, said Mahmoud Naji, a soldier at the military Brigade No. 17 station in Bab el-Mandeb city. The air force jets also targeted other strategic military posts controlled by Houthis in the region, he said by phone.
Thousands Evacuated
Closure of the waterway may keep tankers from the Persian Gulf from reaching the Suez Canal and the SUMED Pipeline, diverting them around the southern tip of Africa, adding to transit time and cost, according to the EIA. Ships carrying oil from Europe and North Africa to Asian markets wouldn't be able to take the most direct route, it said on its website.
Djibouti has been helping evacuate thousands of foreign nationals stranded in Yemen since conflict in the country intensified last month. Chinese and Indian civilians along with Russian diplomats are among those who have arrived by air and by sea, Youssouf said. As many as 2,000 Djiboutian nationals are being returned to their homeland, he said.
Any further deterioration in the situation in Yemen may lead to an "exodus" of Yemenis to Djibouti, particularly if the blockade of Yemeni ports by coalition forces leads to food, energy and water shortages, Youssouf said. About 50 families have already arrived in northern Djibouti and are being accommodated in the northeastern town of Obock, he said.
Djibouti, a desert country which imports most of its food and has a scarcity of water, has little capacity to deal with a refugee crisis, Youssouf said.
"We're just trying to do what we can with what we have," he said. "At some point, we might have to call the international community to come and assist."
Before it's here, it's on the Bloomberg Terminal.
LEARN MORE