U.S. Argues Against Reversal of Gupta Insider Conviction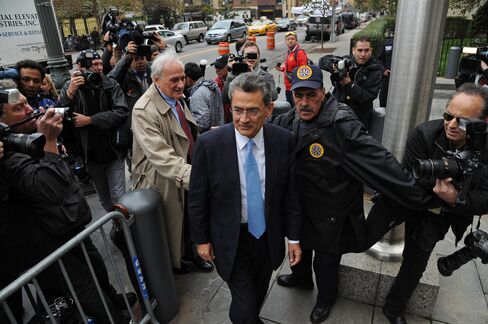 Former Goldman Sachs Group Inc. director Rajat Gupta's insider trading conviction shouldn't be thrown out based on a sweeping appeals court ruling in December, U.S. prosecutors argued.
Gupta, who's serving a two-year sentence for passing tips to billionaire hedge fund operator Raj Rajaratnam, asked a judge last month to reexamine his conviction based on the appeals court ruling that prosecutors must show that a defendant received a personal benefit for passing illegal tips.
Prosecutors in Manhattan Thursday argued that Gupta, 66, received financial benefits for tipping Rajaratnam, the co-founder of Galleon Group LLC, and that he failed to argue the issue in his appeal and can't raise it now.
"The evidence established -- beyond a reasonable doubt -- that Gupta had a powerful, ongoing financial incentive to tip Rajaratnam with material nonpublic information that Rajaratnam could use to commit insider trading at Galleon," prosecutors said in a filing opposing Gupta's bid to reverse the conviction.
Rajaratnam, 57, was convicted of insider trading in 2011 and sentenced to 11 years in prison. He and Gupta are both serving their sentences in a federal prison in Devens, Massachusetts. Gupta is due out in March, according to the U.S. Bureau of Prisons.
The New York appeals court denied Gupta's appeal in June. He's now seeking to have the conviction thrown out based on the appeals court's December ruling, in which it reversed the insider convictions of hedge-fund managers Todd Newman and Anthony Chiasson.
Gupta, a former McKinsey & Co. managing partner, is the highest-profile executive convicted in the U.S. crackdown on insider trading at hedge funds. He was found guilty of passing tips to Rajaratnam about Berkshire Hathaway Inc.'s $5 billion investment in Goldman Sachs and the bank's financial results for two quarters in 2008.
Jurors improperly convicted Gupta in 2012 "without finding that his tips were part of an agreed-upon exchange of tips for consequential benefits," defense lawyer Gary Naftalis said in a filing last month.
The case is U.S. v. Gupta, 11-cr-00907, U.S. District Court, Southern District of New York (Manhattan).
Before it's here, it's on the Bloomberg Terminal.
LEARN MORE