These People Are Trying to Run 155 Miles Through the Sahara Desert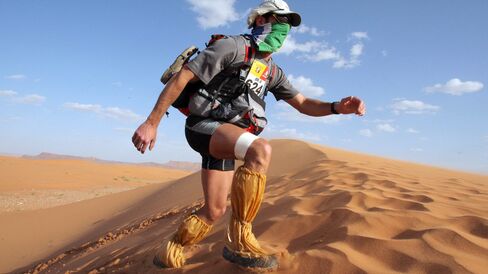 Anti-venom pump? Check. Compass? Check. Sun cream? Check. Running shoes? Unavoidable. Spare pair of underpants? At 46 grams (1.6 ounces), maybe not.
With less than a week left before the start of the seven-day, 250-kilometer (155-mile) Marathon des Sables footrace in the Moroccan Sahara, I'm staring at the kitchen scales. I've cut my daily rations of nuts, salted corn and energy gels and identified another 1.1 kilos of items I could leave behind. Everything I pack, I have to carry across the dunes and barren desert between Ouarzazate and Merzouga. I'm not alone in my quandary.
"I don't think I've ever put so much thought into what to put into a bag," said Andrew Edwards, 41, chief executive officer of Monecor Ltd. and a fellow competitor. "It's times like this, knowing that every extra thing you take means a heavier weight on your back, when you really learn how to distinguish between 'wants' and 'needs.'"
The Marathon des Sables, or marathon of the sands, has built a reputation as the "toughest footrace on Earth" since it began in 1986 with 23 runners. Three decades and 13,000 competitors later, almost 1,400 will take to the start on April 5, including the 71-year-old British explorer Ranulph Fiennes, more famous for his polar exploits.
The rules require self-sufficiency: The organizers provide only essentials such as water (120,000 liters), Berber tents (300) and painkillers (6,000). And the race name is a misnomer: The distance is almost six times a marathon.
Three Moroccans have won 17 of the past 18 editions: defending champion Rachid El Morabity and brothers Mohamad and Lahcen Ahansal. Americans Nikki Kimball and Meghan Hicks have won the past two women's races. Fiennes, who completed the first polar circumnavigation of the planet in 1982, hopes to become Britain's oldest finisher ever.
For the rest of us, it's not about winning but finishing and earning the famous kiss on each cheek from Patrick Bauer, the race's French founder.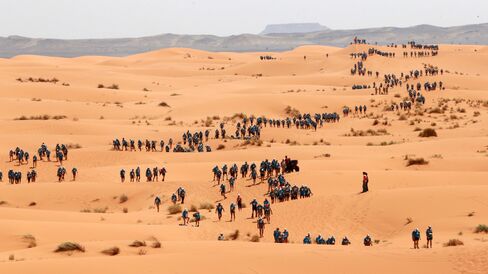 The pile of stuff I'd like to take comes to 9.3 kilos (20.5 pounds), within the rules calling for 6.5 kilos to 15 kilos. Most runners aim for the lower end of that spectrum, including Fiennes, who says he's at about 7 kilos.
This year, 209 of the 1,363 participants are women. Marissa Harris, a banker at Citigroup in London, is competing for a fourth time, and her bag is the lightest it's ever been at 6.8 kilos. The first year she brought running poles, a mistake she wouldn't repeat. For the 2015 edition, she's using a lighter sleeping bag and mat.
"Running is one of the few moments in my conscious life where I am fully focused on what I am doing," said Harris, 37, who has raised $150,000 for cancer research through her desert runs. "I have one purpose and that is to move forward. Left foot, right foot."
Hot food or music? Gethin Davies made his choice.
"I was happy to trade the luxury of a stove to warm my food in order that I can fit in my iPod," said Davies, 25, a lieutenant in the British Army. "Music plays a huge part in my running, and so that has to come."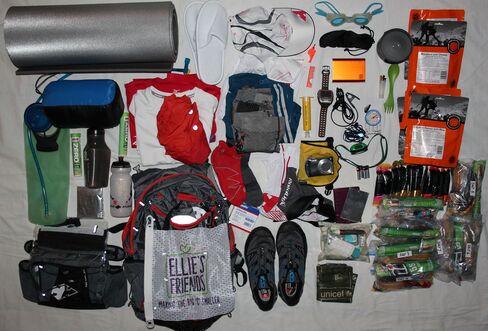 I draw the line there and am keeping the stove to heat my dinners: freeze-dried, 800-calorie, boil-in-the-bag ready meals. I'm also bringing biscuits, dried fruits, M&Ms, jelly babies, Peperami (a pork sausage snack) and Biltong (dried beef). Any competitor failing to present at least 2,000 calories a day gets a penalty of two hours.
I'm contemplating ditching 24 grams of cooking fuel and a 301-gram storage charger, however, which means my GPS watch would run out of battery during the fourth stage, the longest by far with more than 92 kilometers to complete in two days.
The temperatures in the Sahara desert may top 40 degrees Celsius (104 degrees Fahrenheit) during the day and sink to freezing at night. Training for an event as grueling as the Marathon des Sables, or MdS, as it's called by runners, has been a challenge in the British winter.
I knew I couldn't possibly prepare for heat and sun in London, so I focused my training on long runs carrying a pack. Mostly it's been my 11-kilometer commute to and from work from east London to Parliament, or 16 kilometers for a more scenic route skirting the Isle of Dogs.
Some of my fellow runners were more inventive with heat training. Henry Potter, a 25-year-old ship broker at Hartland Shipping, said he trained "in a boxing sweatsuit, getting some very strange looks."
Michelle Payne, a 46-year-old legal personal assistant, has booked sessions on a treadmill in a special heat chamber, while Jonathan Kattenberg, a 45-year-old life coach from Yorkshire, followed his workouts with sessions in the sauna.
Others found sand where they could, like Aaron Jerling, a 31-year-old engineer at TrainTrick.com who ran in dunes in southeast England and Wales.
"I'm doing this for a love of running," said Gemma Game, a 35-year-old fund manager in London at Norges Bank who trained on the sand track in Hyde Park. It's also "an interesting experiment to see how hard the MdS is in comparison to raising two toddlers and working full-time in the City."
At least I'm not alone in my lack of preparation for desertic weather. Fiennes, the first person to traverse Antarctica on foot, said commitments for a book contract have prevented him from doing any heat training.
"This is a shame but unavoidable," Fiennes said in an e-mail.
The mandatory anti-venom pump is an unwelcome reminder that a scorpion or a snake may seek some body warmth in my sleeping back in the cold of the night. But my biggest fear is not finishing. Although I've been building up to the event for a year and spent 3,600 pounds ($5,300) in fees, flight and pre-race hotel, I can't predict how my body will fare running six marathons in the heat of the desert. Here again, it's comforting to know I'm not the only one.
"I have always finished my races, even if I have to walk or crawl," said Ben Peresson, 41, Venezuela's only entrant. "I can't fail, I have sacrificed too much time, effort and money."
(Alex Morales, a marathon runner who covers U.K. politics, energy and environment for Bloomberg News in London, is raising funds for a cancer charity set up by a friend called the Eleanor Rose Foundation.)
Read this next:
Before it's here, it's on the Bloomberg Terminal.
LEARN MORE