Scene Last Night: Harlem RBI, Global Kids, Audubon, Tusk USA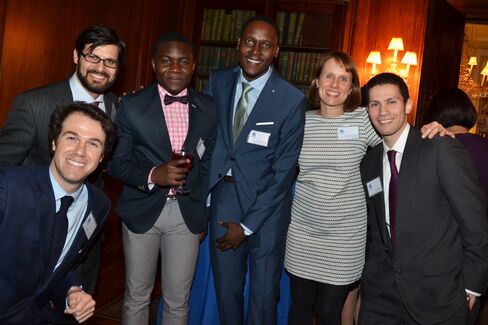 Wine, chocolate and armchair globe-trotting were on the agenda Wednesday night at Harlem RBI's "A League of Our Own" benefit at the Bowery Hotel.
Amanda Irizarry, a sophomore at University of Pennsylvania, described an enviable itinerary to guests including Jamie Sutherland of Goldman Sachs and Jillian Griffiths, chief operating officer of Clayton, Dubilier & Rice. Irizarry, 20, said she'll study next semester in Brazil, South Africa and India. She's already been to Peru, Colombia, Honduras and France, where she batted for her Harlem RBI team.
"I learned you don't need to speak the same language to play, learn and grow together," Irizarry said, echoing the motto of the nonprofit that gets kids playing softball and baseball while working on their academics and personal development.
As Irizarry prepares for a career in global health, she holds Harlem RBI dear. So over her summer break, she'll coach on its ball fields in East Harlem and the South Bronx, as well as intern at PricewaterhouseCoopers.
Omar Khedr, 24, also stays connected to a group that opened doors for him: He's on the junior board of Global Kids, which in high school taught him foreign policy, human rights and civic engagement.
Geospatial Advocacy
At a fundraiser for Global Kids Wednesday night at the Council on Foreign Relations, Khedr said the organization gave him a leg-up during internships at Goldman Sachs and JPMorgan Chase. "I already understood that at a multinational corporation, you have to think about global risk and political risk," Khedr said.
Three years after graduating from New York University, where he majored in economics, Khedr works at IBISWorld and is co-founder of Nuestros Politicos, "a Politico for Spanish speakers," he said, that will start publishing April 25.
The event honored Edward Skyler of Citigroup, who last year gave 20 Global Kids participants a tour of the firm's trading floor.
At the National Audubon Society gala Tuesday, Kate Flannery of the NBC comedy "The Office" talked up the "bird-related booze" (Wild Turkey, Grey Goose) and Audubon Chief Executive Officer David Yarnold gave an example of geospatial advocacy.
'Potential Outcomes'
"We used Esri to create maps for the Bureau of Land Management that resulted in the preservation of 11 million acres," Yarnold said of an effort that protected Alaskan breeding grounds for birds from all seven continents.
Environmental Systems Research Institute, or Esri, based in Redlands, California, made an $11.2 million investment to equip Audubon with its software. Audubon has trained more than 1,000 people to use it.
"The maps aggregate different types of data, from soil type to rainfall to demographics of people living in those places," Yarnold said. "You can put all those together and you can actually see the potential outcomes. It lets us sit at the table with an oil company or developer."
"It's thrilling to see it in action," said Jack Dangermond, who founded Esri with his wife, Laura, in 1969. "I was going to school at Harvard and she was working at a lab there. We started talking about the idea of using science and technology as a way to bring about rational thinking."
Black Rhinos
Gathered to honor the Dangermonds at the Plaza Hotel were Adam Wolfensohn of Encourage Capital, Peter C. Rockefeller of G2 Investment Group, B. Holt Thrasher of Mooreland Partners and Dan Spethmann of Working Lands Investment Partners. Also Dan Lufkin, John Loeb, and Leonard Lauder.
Meanwhile, some of the guests at Tusk USA's gala at Guastavino's Tuesday became visual data, when asked to stand if they found a marker under their bread plates. About 50 people rose -- representing the number of elephants killed in Africa in the 12 hours preceding the event.
Every guest got a copy of "Chizi's Tale: The True Story of An Orphaned Black Rhino," by Jack Jones, son of hedge-fund manager Paul Tudor Jones. The black rhino population has fallen to 4,800 from 70,000 in 1970, according to TUSK USA Executive Director Ellen O'Connell.
Before it's here, it's on the Bloomberg Terminal.
LEARN MORE