Robert H. Schuller, 'Hour of Power' Televangelist, Dies at 88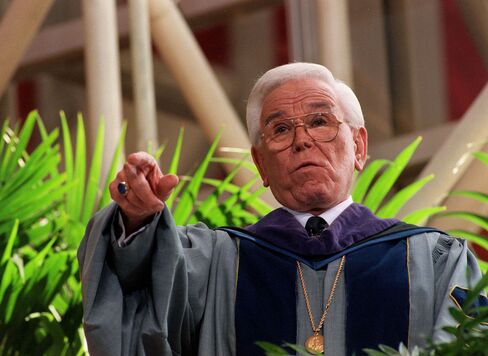 Robert H. Schuller, the bespectacled, white-haired preacher of inspirational Christian messages whose "Hour of Power" broadcasts from a glass-enclosed California megachurch made him one of America's most-watched televangelists, has died. He was 88.
He died Thursday at a health-care facility in Artesia, California, the Associated Press reported, citing his daughter Carol Schuller Milner. He had been diagnosed with esophageal cancer.
From the Philip Johnson-designed headquarters of Crystal Cathedral in Garden Grove, California, Schuller's weekly broadcast reached about 2 million viewers on 190 stations in the U.S. at its peak in the early 1980s, the New York Times said in 2010. In recent years, the church claimed global viewership of 20 million people a week through satellite and cable systems in 50 countries, including Russia, where "Hour of Power" went on the air in 1992 following the fall of the Soviet Union.
Overweight and nonathletic as a child, Schuller taught a theology centered on the importance of self-esteem.
"People who do not love themselves can't believe in God," Newsweek magazine quoted him as saying in 1992. He said humans are divided between "impossibility thinkers" and "possibility thinkers," the latter group including Jesus Christ and his followers. His 30-plus books had titles such as "The Be (Happy) Attitudes" and "Tough Times Never Last, But Tough People Do!"
Schuller largely managed to steer clear of the personal, political and financial tempests that at times engulfed fellow televangelists such as Oral Roberts, Jimmy Swaggart, Jim Bakker and Pat Robertson.
Counseling Presidents
He counseled U.S. presidents, including Bill Clinton, whom he visited at the White House a few days before the 1997 inauguration. Knowing that Clinton had talked in his successful re-election campaign about building a "bridge to the 21st century," Schuller directed him to a favorite biblical passage, Isaiah 58:12, which reads in part: "Thou shalt be called the repairer of the breach, the restorer of paths to dwell in."
When Clinton took the oath of office on his family Bible on Jan. 20, 1997, he placed his hand on that verse. And in his inaugural address, he said Americans were calling on both parties "to be repairers of the breach." Schuller was a guest of first lady Hillary Clinton at the 1997 State of the Union address.
In "Prayer: My Soul's Adventure With God," his 1995 book, Schuller said he set his life's course just before his fifth birthday, when, inspired by a beloved uncle, he added the line, "And make me a preacher when I grow up" to his nightly prayer.
'Lifetime Decision'
"My lifetime decision was made then and there," he wrote. "God called me before I could be motivated by ego, fame or fortune."
The church he founded struggled with debt and succession issues after his retirement.
His handpicked successor, Robert A. Schuller, the only son among his five children, left Crystal Cathedral Ministries in 2008 after two years as senior pastor. One of his daughters, Sheila Schuller Coleman, became senior pastor but left in 2012. The church, struggling with the financial burden of its 40-acre, architecture-rich campus, filed for bankruptcy protection in 2010. In 2012, the campus was sold to the Roman Catholic diocese of Orange County for $57.5 million.
Robert Harold Schuller was born on Sept. 16, 1926, in Alton, Iowa, the youngest of five children raised on a nearby farm by Anthony Schuller and the former Jennie Beltman.
California Bound
He earned his undergraduate degree from Hope College and his Master of Divinity degree from Western Theological Seminary, both in Holland, Michigan. He was ordained by the Reformed Church in America.
With his wife, the former Arvella DeHaan who died in February 2014 at age 84, Schuller moved to Chicago to become pastor of Ivanhoe Reformed Church. In 1955, he was sent to California to build a new congregation. His first Sunday service was held at the Orange Drive-in Theatre, with Schuller preaching from the roof of the snack bar and some congregants listening from their parked cars.
His first church building, a sanctuary designed by Richard Neutra, opened in 1961 and allowed Schuller to preach simultaneously to walk-in and drive-in congregants. Neutra's 13-story Tower of Hope opened in 1968, its programs including a church-sponsored counseling and suicide-prevention hotline. The Robert H. Schuller Institute for Successful Church Leadership opened in 1970.
Schuller said fellow evangelist Billy Graham, during a 1969 visit to the Anaheim Convention Center for one of his televised crusades, came up with the idea for Schuller to broadcast his Sunday-morning services on Los Angeles television.
At Graham's suggestion, Schuller challenged his congregation to donate half of the estimated $400,000 in first-year costs to buy an hour of television time -- "if you think God wants us to do this." Schuller said pledges totaling $203,000 were received within days. "Hour of Power" debuted on KTLA in Los Angeles in February 1970, expanding over the next two years to Seattle, Philadelphia, Chicago and New York City.
The glass-enclosed Crystal Cathedral, with seating for 2,800, was dedicated in 1980. Beverly Sills was among the performers at an opening ceremony.
"Finally," Schuller said, "we have a church where the heavens can do their thing."
Before it's here, it's on the Bloomberg Terminal.
LEARN MORE