Prisons
Prisoner Says Guards Hid Him From the FBI in a Bizarre Human Shell Game
Turns out it's not so hard to conceal one man in a 22,000-inmate system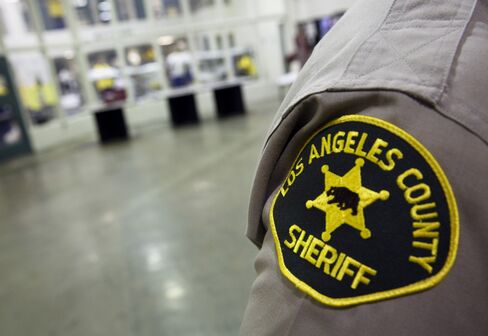 Anthony Brown was serving a prison sentence for armed robbery in 2011 when his jailers discovered he was a mole for the FBI.
Deputies of the Los Angeles Sheriff's Department found a cell phone on Brown with calls they traced to the Federal Bureau of Investigation, according to Assistant U.S. Attorney Lizabeth Rhodes. The Men's Central Jail in Los Angeles, to which Brown had recently been transferred, had been under scrutiny by federal agencies for years over its deputies' use of force and its treatment of mentally ill prisoners. If the FBI was involved in a civil rights probe at the jail, that could be very bad news for them.
Then they did something unusual to Brown. They hid him.
The deputies repeatedly rebooked Brown under new names, new inmate numbers, and new physical descriptions for weeks in August and September of 2011. Brown vanished in the county jail system's database of some 22,000 inmates.
Eventually two of the deputies went to the federal authorities, who recovered Brown. Seven deputies were convicted on charges related to hiding Brown and obstructing a federal investigation, with Rhodes, of California's Central District, prosecuting. Last September, they were sentenced to federal prison. They are appealing.
Now Brown, 45 years old, has filed a federal civil rights lawsuit against Los Angeles County, the seven deputies, 10 unnamed deputies, and a few of their bosses. Brown's complaint describes the events as a "kidnapping" and says that he suffers from coronary artery disease, diabetes, and hypertension and that he wasn't given proper medical care while hidden in the jail. Alleging that the deputies threatened to kill him while they hid him in the jail system, he is asking for unspecified monetary damages. His attorney, Milton Grimes, said it isn't about the money.
"This case opened Pandora's box," Grimes said. He said Brown's ordeal is typical of the brutal ways in which prisoners are mistreated at Men's Central Jail.
"They do hide information. They do abuse people. They do lie. That's what I want to show," Grimes said. "It is barbaric, inhumane, and criminal how we treat our prisoners. And Anthony Brown is an example of that."
Brian Hershman, a lawyer who represents Los Angeles County, called Brown's claims a "theory" and said the deputies maintain they are innocent.
None of the deputies has served any time behind bars, Hershman said, and all posted a $50,000 bond to remain free while their appeals, to the U.S. Court of Appeals for the Ninth Circuit, are under way.
As for the jail itself, the setting where Brown's saga unfolded, Hershman said a Justice Department letter last year outlining continued abuses at the prison has prompted improvements. "We've hired two experts to help with some of the use-of-force issues that were happening with the jail," he said. "By all accounts, the commitment of the Sheriff's Department to make changes at the jail has been extraordinary."
Asked about those improvements, U.S. Attorney Rhodes said, "Uh, I really can't speak to that."
Before it's here, it's on the Bloomberg Terminal.
LEARN MORE