Pirelli's Patriarch Turns to China to Protect Legacy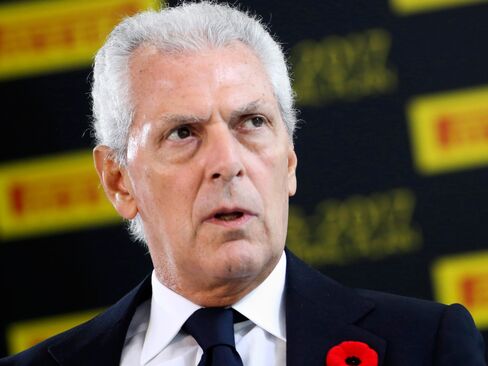 For Pirelli & C. SpA, Marco Tronchetti Provera is more than just chairman and chief executive officer. He's something of a father figure for the Italian tiremaker, and at 67, he's struck a deal to protect his legacy.
Ever since he married into the company almost 30 years ago, Tronchetti's life has been inextricably enmeshed with Pirelli. To secure the company's future, the silver-haired member of the old guard of Italian business tapped China's global ambitions to engineer an accord to let him reshape the manufacturer one last time. His goal, he says, is Pirelli's survival as a niche tiremaker, even though it lacks the size of bigger rivals.
"For me, the achievement of my target was to provide a safe future for Pirelli" by protecting it from corporate predators that might "destroy the company," Tronchetti said in an interview at the company's headquarters at a converted tire plant in Milan.
The deal is essentially the last stand of Italy's old business elite. The so-called Salotto Buono (Italian for "fine salon") used a web of cross shareholdings and layered investment vehicles to maintain their grip on the country's leading companies. These entrenched interests contributed to the stasis that has led to a cycle of recessions, sapping capital now needed for revival.
Tronchetti, considered one of the last members of that circle of Italian business leaders, adapted those tools to the era of globalization.
Ferrari Tires
"He had no choice but to ally with an international investor to compete long term with global rivals,"said Valter Conca, a professor at Milan's Bocconi University, who specializes in mergers and acquisitions. "Italian companies must be freed from Salotto Buono's provincialism and think big."
Under the agreement, ChemChina -- a state-owned chemical giant that makes everything from pesticides to latex to resins for plastics -- provides the bulk of the funding in the deal that values Pirelli at 7.4 billion euros ($8 billion). At the center is Tronchetti, who will keep management control for at least four years before handing over to a successor.
His goal is to combine the technology of Pirelli's undersized truck-tire business with the scale and growth potential of ChemChina's Aeolus Tyre unit. Pirelli would own a stake in that entity and manufacture solely high-end car tires for elite brands like Ferrari, McLaren and Bentley.
Malacalza Dispute
The deal almost didn't happen. When ChemChina came calling three years ago, Pirelli's patriarch impressed his counterpart Chairman Ren Jianxin with a tour of a factory in Settimo Torinese in the Piedmont region, where tires for Ferrari and Bentley are made. But the structure that Tronchetti put in place to ensure control made a deal unworkable and ChemChina walked away.
That put one of Italy's most prominent businessmen -- who appears in tabloids with his third wife, Tunisian-born model Afef Jnifen -- to shift to smaller deals to maintain his grip on the company. Last year, he brought in an investment company controlled by Russian oil company OAO Rosneft to buy out Clessidra SGR SpA. The private-equity company helped Tronchetti end a dispute with the Malacalza family, which was critical of his leadership.
Telecom Italia
Tronchetti was born into a well-off business family and ran a sea-transport company in the 1970s. His relationship with the tiremaker started after he married Cecilia Pirelli, one of the descendants of Giovanni Battista Pirelli, who founded the company in 1872. That led him to invest his personal fortune into the manufacturer in 1986, which at the time made cables and shoes as well as tires.
When Cecilia's father Leopoldo resigned in 1992 after a failed merger effort with Continental AG, Tronchetti took the reins and hasn't relinquished them since -- even after his divorce from Cecilia and the 2001 wedding with Jnifen.
Over that time period, he's aggressively restructured Pirelli, including selling non-tire units such as cables and optics systems and components. But then in 2001, he did an about-face and led Pirelli's takeover of Telecom Italia.
During his control of Italy's biggest phone company, Tronchetti merged fixed-line and mobile operations and foresightedly sought a combination between Telecom Italia's infrastructure and content from Rupert Murdoch's NewsCorp. After clashing with the Italian government over his strategy, Tronchetti eventually sold Pirelli's holding in the phone company in 2007, returning the company's focus once again to tires.
Tea-Cup Washer
"Tronchetti is not a philanthropist," said Raffaele Bonanni, former head of Cisl, one of Italy's biggest unions. "He pursued his personal interest, which only partially coincided with company's."
But Pirelli is small compared with competitors like Bridgestone Corp. and Michelin & Cie and lacks the capital to invest to build up its industrial-tire business.
Six months ago, ChemChina's Jianxin, who started out washing tea cups before setting up the chemical giant, again called on Tronchetti. Through interpreters, the two came to an understanding. The Chinese wanted Pirelli's technology and the association with its heritage, while Tronchetti needed the resources and growth potential the Chinese company could offer.
'Safe Future'
They agreed on a price of 15 euros a share for a 26.2 percent stake held by Cam Finanziaria SpA, a holding company controlled by Tronchetti that also pools the stake from the Rosneft affiliate. The Camfin group will then reinvest some of the proceeds to support a bid for the rest of the shares at the same price. Tronchetti will end up still leading the company and get an indirect stake of as much as 13 percent if all goes to plan.
The rest of the shareholders will just get the cash and no potential upside from plans to relist the company in four years. That makes the deal look like a low-ball offer, even if Tronchetti called it "fair." Pirelli shares continued to be priced above the bid, trading between 15.47 euros and 15.54 euros in Milan on Thursday. Still, it's the deal Tronchetti's been waiting for.
"I now have a partner who has the same goals I have," said Tronchetti, his voice as crisp as his dark-blue suit. "That makes me comfortable looking forward. That's why I think that now Pirelli has a safe future."
Before it's here, it's on the Bloomberg Terminal.
LEARN MORE