Japan to Protest North Korea's Halt of Abductee Talks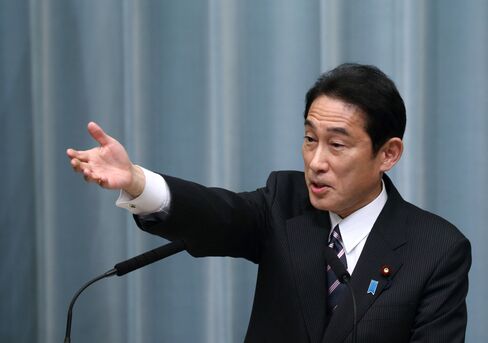 Japan lodged a protest against North Korea over its suspension of talks on the fate of citizens kidnapped by the Pyongyang regime after a raid against pro-North Korean residents.
"We cannot accept this announcement by North Korea," Foreign Minister Fumio Kishida told reporters in Tokyo on Friday. "We will make a swift and appropriate protest."
Japanese police searched the Tokyo home of the chairman of Chongryon, a pro-North Korea organization, and arrested two others over the suspected import of North Korean mushrooms in violation of trade sanctions, Kyodo News reported Thursday. North Korea today sent Japan a letter condemning the raid, the official Korean Central News Agency said.
Chongryon has been a source of income for North Korea, though has struggled financially in recent years, according to the website of South Korea's Unification Ministry.
The announcement came two days after Kishida said his country would extend some sanctions against North Korea after talks on the fate of kidnapped Japanese failed to produce results. North Korea admitted in 2002 to abducting 13 Japanese citizens in the 1970s and 1980s to train its spies. North Korea remains under a separate set of sanctions imposed by the United Nations for its three nuclear tests since 2006.
Other sanctions due to expire in April were extended for two years, Kishida said on March 31. They include barring North Korean ships from entering Japanese ports and maintaining limits on trade with the country.
North Korea returned five of the kidnapping victims in 2002, saying the others were dead. Japan has never accepted that explanation. Some Japanese citizens groups estimate the number of abductees in the hundreds.
North Korea in July agreed to conduct a new investigation in return for Japan easing some sanctions. So far the new probe has failed to produce results.
Japanese Prime Minister Shinzo Abe met some of the victims' families Friday. He told reporters after the meeting that North Korea's actions were unacceptable and Japan would employ "dialog and pressure" on the isolated nation.
"I wonder whether North Korea really wants to return the victims to Japan," Sakie Yokota, the mother of one of the abductees, said at a press conference in Tokyo. "This is the biggest issue."
(A previous version of this story gave the incorrect year for the return of abductees.)
Before it's here, it's on the Bloomberg Terminal.
LEARN MORE