No Sleeping In as Stock Jocks Await Good Friday Jobs Report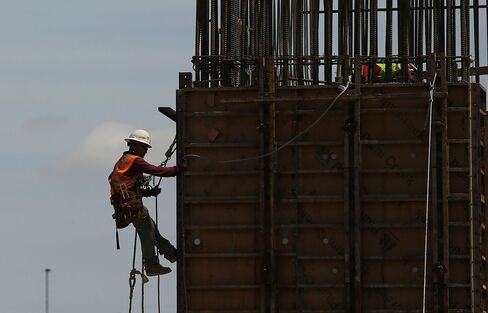 Yousef Abbasi will be checking his phone on Good Friday morning, thanks to the U.S. government and phases of the moon.
Technically, he has the day off, with U.S. stock exchanges shut for the holiday. But the Labor Department's monthly employment report, one of the most closely watched gauges of the U.S. economy, means the chief market strategist of JonesTrading Institutional Services LLC will be up early.
Equity traders will have 45 minutes to react when the report is released at 8:30 a.m. New York time, as futures linked to the Standard & Poor's 500 Index and Dow Jones Industrial Average will continue until 9:15 a.m. on CME Group Inc.'s Chicago Mercantile Exchange. Bond trading will close at noon, while currencies trade around the clock. Abbasi will be watching all assets for a hint of what Monday's stock trading may bring.
"It's certainly a situation that we have to monitor and understand," he said by phone on March 30. "If you're going to put bonds, currencies and the data in front of me, I can probably say what the rational move in equities would be."
The Securities Industry and Financial Markets Association recommended that trading in fixed-income securities end at noon in New York, opting for an early close rather than a complete shutdown. While U.S. commodity markets will be closed, traders will be able to place bets on gold for immediate delivery in London after the employment report is released.
Rate Bets
The S&P 500 added 0.6 percent to 2,071.74 at 10:05 a.m. in New York, halting a two-day skid. The Dow Jones Industrial Average increased 0.6 percent, while the Nasdaq Composite Index climbed 0.4 percent.
The U.S. economy added 245,000 jobs in March, while the unemployment rate held at 5.5 percent, according to the median estimate of 86 economists surveyed by Bloomberg before the report.
The Federal Reserve has said its first interest-rate increase since 2006 will depend on data showing economic strength. The S&P 500 plunged 1.4 percent on March 6, after the February payrolls report showed employers added more jobs than forecast and the unemployment rate dropped to the lowest in almost seven years.
The scrutiny means little holiday rest for some of Wall Street. Goldman Sachs Group Inc. will be "fully operational and adequately staffed," said Tiffany Galvin, a spokeswoman for the firm. Trading desks at Barclays Plc will have "appropriate coverage to meet our clients' needs," according to spokesman Andrew Smith.
'Awkward Date'
Guy LeBas, Janney Montgomery Scott LLC's chief fixed-income strategist, sees Good Friday staffing as a necessity.
"It's a very awkward date to say the least," said LeBas, whose firm manages $61 billion in assets. "But any time the fixed-income market is open, we're responsible for providing liquidity, even though the need for it will be low."
Abbasi says he won't be trading stock futures because the lack of volume in the market will make participants more vulnerable to unpredictable price swings.
"The big issue is going to be liquidity," he said. "You may think you have the call right, but there may not be any liquidity, so you don't want to put yourself at that risk."
The Labor Department usually publishes the report on the first Friday of the every month. The timing of Good Friday depends on the cycles of the moon. The New York Stock Exchange has closed every year for the holiday since 1864, except in 1898, 1906 and 1907, according to Eric Ryan, a spokesman.
Holiday History
Gary Steinberg, a spokesman at the Bureau of Labor Statistics in Washington, said in an e-mailed response that the Labor Department is releasing the employment numbers because the federal government is open. The bureau has released jobs data on Good Friday on 10 occasions since 1980, according to Steinberg.
The last time the monthly employment report coincided with Good Friday was 2012. U.S. stock-index futures dropped 1.1 percent and the 10-year Treasury yield plunged 13 basis points on April 6, after the report showed employers added the fewest jobs in five months.
The move in futures turned out to be a good indicator for equities. When U.S. stock exchanges reopened on Monday, the S&P 500 declined 1.1 percent, its biggest drop in more than a month. The 10-year Treasury yield slid one basis point that day.
To Peter Jankovskis of Oakbrook Investments LLC, regardless of what happens with jobs data and equity futures on Friday, the market will stabilize itself right away and trade normally the following Monday.
"I suspect when everyone else comes back on Monday, the market will right itself pretty quickly," Jankovskis, who helps oversee $1.9 billion as co-chief investment officer of Lisle, Illinois-based OakBrook Investments., said by phone on March 30.
Before it's here, it's on the Bloomberg Terminal.
LEARN MORE