Mayweather-Pacquiao Resale Tickets Set for 'Biggest' Bout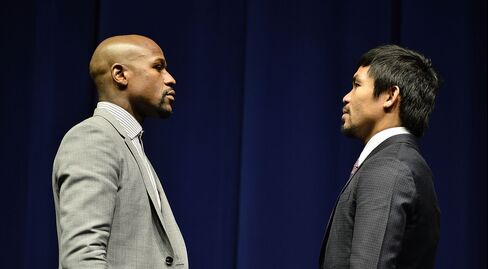 The resale ticket market for next month's fight between Floyd Mayweather and Manny Pacquiao, dormant since the bout was announced in February, is about to heat up.
About 600-700 face-value tickets for the May 2 fight in Las Vegas will go on sale to the public next week, bringing volatility to a market that has limited sales so far.
Ticket aggregator SeatGeek.com has 305 listings, and has just 39 sales at an average price of $9,077, said Connor Gregoire, a communications analyst at the company. The prices could shift up or down as much as 20 percent -- thousands of dollars for some -- once most potential buyers accept that the resale market is their only chance, according to Gregoire.
"After all the buildup and all the hype, we're finally nearing that inflection point where real money, and lots of it, is going to start changing hands," Gregoire said. "The public sale is going to set the wheels of the biggest boxing resale market we've ever seen in motion."
The record resale prices currently listed -- from $5,000 to $47,122 at TiqIQ.com -- have led to limited sales and a lot of window shopping. TiqIQ data shows people in the last few weeks are looking without buying, according to spokesman Chris Matcovich. He said that pattern leads him to believe prices may drop after the public sale.
"That seems to me to say that $5,000 may be a tiny bit too high," Matcovich said in a telephone interview.
TiqIq's average of $9,992 is more than triple the most expensive boxing match it has ever tracked, and is slightly lower than the average listing for this year's Super Bowl ($10,466).
Ticket Distribution
Tickets starting at $1,500 will go on sale next week, according to Lee Samuels, a spokesman for Top Rank Inc., Pacquiao's promoter. Details of the sale, which was originally scheduled for this week, haven't been announced.
Face-value prices at the 16,800-seat MGM Grand Garden Arena were scaled to produce a gate of $72 million, according to Top Rank founder and chief executive Bob Arum. That's 3 1/2 times more than the $20 million gate generated by Mayweather's 2013 fight against Canelo Alvarez, the previous record for a boxing match.
The rest of the tickets were divided between the MGM Grand, promoters, the fighters' camps and HBO and Showtime, which will jointly televise the bout. Ticket experts say about a fifth of tickets for big fights typically end up on the secondary market.
The fight, which has been discussed since 2009 and probably will shatter previous boxing revenue records, has generated so much publicity that some people in the ticket industry are reluctant to predict the market.
Fulfilling Orders
For StubHub, which has no listings because it doesn't allow speculative sales, the biggest unknown for the fight is inventory, according to spokeswoman Alison Salcedo. She said the site expects to have listings up within 48 hours of the public sale, depending on the details of the sale and printing of tickets.
"I'm sure we'll see a really significant spike in activity," Salcedo said. "But it also depends on how much inventory we have, and that remains to be seen."
While SeatGeek and TiqIQ have ticket listings, both sites took extra precautions to ensure brokers would be able to fill those orders.
It's rare for the public sale of tickets to occur within a month of the fight. For Mayweather-Alvarez two years ago, for example, the gap was 10 weeks.
Compact Timeframe
SeatGeek's Gregoire said the crunched timeframe leaves less time for the market to soften, meaning there probably won't be a quiet period that buyers can use to their advantage to get bargains from sellers worried about being stuck with inventory.
"When there's more of a lead-up, there's an opportunity for there to be more pressure on brokers and sellers to sell a ticket here and there when they can," he said. "With this timing, there's next to no chance to use the expiration date as a negotiating tool if you're on the buyer side."
Before it's here, it's on the Bloomberg Terminal.
LEARN MORE