Lumber Liquidators Preliminary Sales Top Analysts' Estimates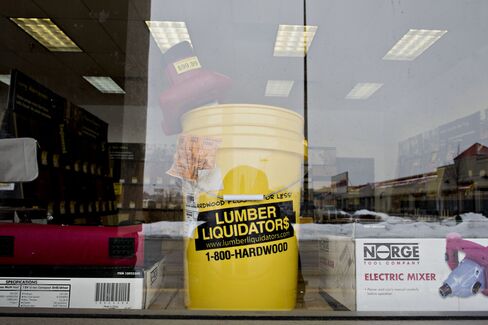 Lumber Liquidators Holdings Inc., accused by a news program of selling flooring with excessive levels of formaldehyde, posted first-quarter sales that topped analysts' estimates as it works to regain consumers' trust.
Revenue rose 5.6 percent to $260 million in the period, the company said Thursday in a preliminary earnings statement. Lumber Liquidators last month forecast sales of as much as $265.6 million, and analysts estimated $258.2 million.
Lumber Liquidators has plunged since late February, when it disclosed that CBS's "60 Minutes" was planning a story that would cast the company in an unfavorable light. The story, which aired March 1, included tests that showed flooring sold by the retailer had toxic levels of formaldehyde, a carcinogen. It also used undercover reporters and hidden cameras to show managers at three Chinese factories admitting to falsely labeling products to make them appear to meet regulations.
While first-quarter sales rose, revenue in March, following the program's airing, fell 13 percent to $89.4 million. The company has defended its flooring, saying it's completely safe. Lumber Liquidators also has offered free testing to customers and said it may replace some flooring.
Lumber Liquidators now is facing a slew of lawsuits and an investigation by the U.S. Consumer Product Safety Commission.
The shares rose 4.6 percent to $34.53 at 9:33 a.m. in New York. Toano, Virginia-based Lumber Liquidators slid 50 percent this year through Wednesday.
The company plans to release full first-quarter results on April 29.
Before it's here, it's on the Bloomberg Terminal.
LEARN MORE