Dollar Falls Before Payrolls Report Traders Bet Won't Sway Fed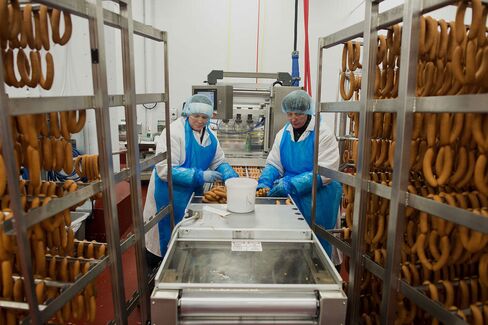 The dollar fell for a second day before nonfarm payrolls data due Friday amid signs growth in the world's largest economy may have lost momentum.
A decrease in jobless claims last week wasn't enough to support a gauge of the U.S. currency, which gave ground following three quarters of gains driven by speculation that economic growth is strong enough for the Federal Reserve to raise interest rates this year for the first time since 2006. Reports on employment and manufacturing on Wednesday tempered that outlook before the Labor Department announces its monthly employment data.
"There is uncertainty around the fundamentals" backing the dollar's rise, Jose Wynne, Barclays Plc's head of foreign-exchange research, said in an interview Thursday at the company's New York offices.
The Bloomberg Dollar Spot Index, which tracks the U.S. currency against 10 of its peers, fell 0.6 percent to 1,191.23 at 4 p.m. New York time, after ending a four-day gain Wednesday. The gauge's 6.2 percent advance in the three months ended March 31 was its biggest first-quarter increase in data going back to 2004.
The dollar weakened 1.1 percent to $1.0880 per euro, trimming its 2015 gain to 10 percent, and was little changed at 119.72 yen.
Wynne said he expects the greenback's rally to pause before strengthening by year-end to 98 cents per euro, a level not seen since 2002.
Employment Reports
"Employment has been the bright spot in our economy over the better part of the last year, and I think there's concern that employment may be the next data point to show some moderation," said Brian Daingerfield, a currency strategist at Royal Bank of Scotland Group Plc's RBS Securities unit in Stamford, Connecticut. "There are concerns that dollar positioning is still stretched and so there could be further corrections."
Jobless claims dropped by 20,000 to 268,000 in the week ended March 28, the lowest since the period ended Jan. 24 and second-lowest in at least a year, a Labor Department report showed. The median forecast of economists surveyed by Bloomberg called for 286,000.
A government report Friday is projected to show that the economy added 245,000 nonfarm jobs last month, down from February's 295,000 in gains. That would follow the pattern set Wednesday by ADP Research Institute's private employment report, which showed U.S. employers added fewer jobs in March from the month before.
'Taking Profits'
U.S. economic indicators have been undershooting economists' estimates since the start of this year, according to the Bloomberg Economic Surprise Index.
"After yesterday's poor jobs data, investors are taking profits on dollar longs," said Peter Kinsella, a senior currency strategist at Commerzbank AG in London, referring to positions that gain when an asset's price rises. "It's prudent risk management. If we get a poor nonfarm payrolls print tomorrow, the poor holiday liquidity means we could squeeze a lot higher in euro-dollar."
Fed Bank of Atlanta President Dennis Lockhart said on Wednesday that although first-quarter economic activity slowed, the U.S. central bank should still be ready to raise interest rates from June to September.
Central Banks
A Morgan Stanley index shows the central bank will increase its benchmark interest rate, the target for overnight loans between banks, from near zero in about 8 months.
Confidence that the central bank will lift borrowing costs by December has helped the dollar stay the best performer among developed-market currencies over the past year, with a 19 percent advance against a basket of peers measured by Bloomberg Correlation-Weighted Indexes. The euro slid 7.7 percent and the yen gained 2 percent.
Bank of Japan policy makers remain confident that inflation is on track to meet their target, even after the latest monthly reading showed price gains stalling, said people familiar with discussions inside the bank. The yen has weakened 8.7 percent against the dollar since central-bank Governor Haruhiko Kuroda in October expanded the scale of unprecedented monetary stimulus he began two years ago.
Before it's here, it's on the Bloomberg Terminal.
LEARN MORE