Country Garden Stake Sale to Ping An to Cut Builder's Costs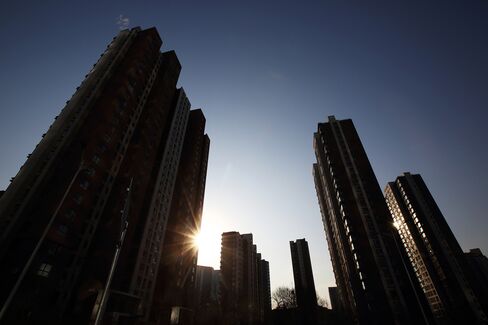 Country Garden Holdings Co. will sell a 9.9 percent stake to Ping An Insurance Group Co. as Chinese developers struggle to navigate a slumping property market.
Ping An, China's second-biggest insurer, will pay about HK$6.3 billion ($812 million), helping Country Garden fund projects and boost capital. The investment will cut the developer's net gearing to 49 percent, from 54 percent, and reduce its financing costs, according to BNP Paribas SA.
"Financing costs are always a big chunk of costs for developers," said Jeffery Gao, a Hong Kong-based property analyst at Nomura Holdings Inc. "Through an equity boost, the company could lower its gearing ratio." Country Garden's yield on future bond issuance could fall to below 7 percent from about 7.5 percent currently, said Gao.
Chinese developers have brought in major equity investors in the past year as property curbs and high inventories weighed on home prices. Greentown China Holdings Ltd. said in December it would sell a 24 percent to state-owned China Communications Construction Group and Sino Life Insurance Co. took a stake in troubled developer Kaisa Group Holdings Ltd. the same month.
Positive Development
Country Garden, based in Foshan in southern China, will sell 2.24 billion new shares to Shenzhen-based Ping An's life insurance unit at HK$2.816 each, about a 10 percent discount to the last traded price of HK$3.13, according to a Hong Kong stock exchange filing on Wednesday.
The developer's shares rose 4.8 percent, the biggest gain since Jan. 2, to HK$3.28 in Hong Kong. They slumped 33 percent last year, compared with the 1.3 percent gain in the Hong Kong benchmark index. Ping An fell 1.4 percent to HK$93.15 on Thursday.
"It's quite positive for the long-term development of the company," Alan Jin, a Hong Kong-based real estate analyst at Mizuho Securities Asia Ltd., said in an e-mail. The deal brings in "a well-known mega company" and will cut "gearing and potential funding cost, broadening its business opportunities."
Country Garden, the nation's third-biggest developer by area sold, is expected to face cash flow pressure as it pulls back from "overaggressive expansion" in 2013, Barclays Plc analysts led by Alvin Wong wrote in a March 12 note.
Providing Support
Ping An's stake purchase comes after China's government relaxed home-buying curbs this week, seeking to revive a slumping property market that's weighed on the broader economy.
"Ping An will continue to provide support to Country Garden on the basis of this strategic cooperation, which will help facilitate the group's financing," the developer said in an e-mailed press release. "Both parties might further their ties on investment, financial, funds and asset management."
The investment will make Ping An the developer's second-largest shareholder and dilute Vice Chairman Yang Huiyan's holding to 53.6 percent from 59.5 percent, according to Country Garden. The developer plans to use the money to fund development projects and as general working capital, according to the statement.
The developer is targeting 5 percent growth in contract sales this year, after a 22 percent gain in 2014, President Mo Bin said in a March 11 briefing. While China's property market woes are expected to continue this year, the policy environment should be better, he said.
Yang is China's second-richest woman, with a net worth of $4.6 billion, according to the Bloomberg Billionaires Index.
Before it's here, it's on the Bloomberg Terminal.
LEARN MORE