Canaccord CEO Dies After Hawaii Triathlon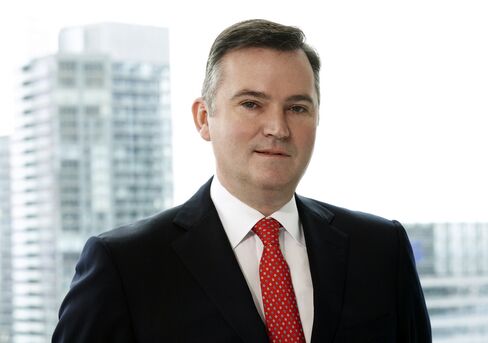 Paul Reynolds, who rose from the trading floor to chief executive officer of Canaccord Genuity Group Inc., Canada's biggest independent investment bank, has died after competing in a Hawaii triathlon. He was 52.
Reynolds died Wednesday in Kona as a result of "complications" half way into the swim portion of the Lavaman Waikoloa Triathlon on the Island of Hawaii last Sunday, according to race officials and fire department reports. Reynolds suffered an apparent heart attack while in the water, said race director Gerry Rott. Canaccord Genuity didn't provide further details on the cause of death in a statement Thursday.
Reynolds joined Toronto-based Canaccord in 1985 as an investment adviser and was named CEO in 2007. He led the company through a financial crisis that brought deals and lending to a standstill and expanded the investment bank's global reach as president of European operations for eight years.
"Paul really transformed the company to a global operation with a very different business mix and culture," said David Kassie, Canaccord's chairman who will step in as interim CEO, in an interview.
Kassie, 59, said the company would embark on a CEO search in the coming months and has several strong internal candidates. He said he was always impressed by the selflessness of Reynolds's leadership and his ability to hire and retain the best talent.
'Collaborative' Approach
"It wasn't about him. He made decisions when they needed to be made, but he was very collaborative and tried to get the best out of other people," Kassie said.
Canaccord, created in 1950, has more than 2,000 employees and offers wealth management, trading and investment-banking services in 10 countries.
Eugene McBurney, chairman of rival GMP Securities LP, said Reynolds's death is a huge loss for the business community in Canada. McBurney knew Reynolds for 15 years and worked with him on 40 or 50 transactions.
"He was a competitor but we also collaborated on a lot of deals," McBurney said in an interview. "More importantly he was a friend."
In a financial world full of bizarre characters, Reynolds was not one of them, said Dan Daviau, CEO of North American capital markets at Canaccord. Reynolds was the kind of guy who would invite a dozen colleagues and their spouses over to his house for dinner, as he did just two weeks ago, he said.
"He was just a fundamentally, sound, good, nice family person from that perspective," Daviau said. "You couldn't say anything bad about him."
Doubled Assets
Reynolds more than doubled Canaccord's assets during his tenure, to C$3.9 billion ($3.1 billion) as of Dec. 31. The recent plunge in oil prices has reduced deals in the energy sector, driving down the company's share price.
Canaccord stock has dipped more than 50 percent since the start of 2008, and the company recently cut 4 percent of staff in its U.K., Europe and U.S. capital-markets units. The firm also restructured its U.S. fixed-income business last year. Canaccord rose 3.3 percent to C$6.86 at 4 p.m. in Toronto, for a market value of C$699 million.
"It's been challenging times for the last few years, but he's made a lot of the right moves and when mining activity and M&A activity gets back to a more normalized level this company's poised to do very, very well," Mike Harris, a Canaccord board member and former Ontario premier, said in a telephone interview. "I'm a big fan of Paul's and of the strategy he's put in place."
Race Wave
Reynolds had spent the past two weeks in Maui surrounded by family and a group of friends who had traveled there with him to compete in the triathlon. He spent his days training. His nights were spent cooking his famous lemon chicken for the group. He turned 52 on March 26, three days before tragedy struck.
Reynolds began his race on Waikoloa Beach at 7:30 a.m. Sunday with dozens of other participants in his 44-54 age group. Emergency crews were called to assist him at 7:50 a.m., or about 20 minutes after the start of the Olympic-distance triathlon in Anaeho'omalu Bay on Hawaii's biggest island.
Reynolds was about half way through the 1,500-meter swim when one of the race patrol paddlers who follow the swimmers heard him call for help, Rott said.
He was immediately lifted onto a paddle board and brought to shore on a jet ski. He was treated and revived before being transported to the North Hawaii Community Hospital in Kamuela, according to a report from the Hawaii County Fire Department.
Lavaman Triathlon
The Lavaman is an Olympic-distance triathlon, and includes a 1.5 kilometer (0.9 mile) swim, 40-kilometer bike ride, and 10-kilometer run, according to its website. Reynolds completed the race last year in a time of 3 hours, 38 minutes, according to the race results.
Daviau said Reynolds talked about his training all the time and was always running, swimming and biking to get ready.
"This wasn't some big fat guy jumping in the water and dying of a heart attack, that's not what this was, to be crystal clear," he said. "This guy had done this race already," and invited other partners and Bay Street friends to join him.
New Challenges
When Reynolds turned 50, he wanted to challenge himself by participating in the endurance race, said Bradley Kotush, chief financial officer of Canaccord. The Vancouver Canucks hockey fan who skied regularly in Whistler, British Columbia became devoted to his training, emblematic of his work ethic, he said.
"Paul was always the guy who got things done," Kotush said by phone Thursday. "It was really Paul's vision. I feel very fortunate to have been a part of that."
Men between the ages of 40 to 60 are most at risk of cardiac arrest caused by the vigorous exercise associated with triathlons, research has shown. The death rate for triathlons is about twice that of marathons due to the increased intensity of the competition, according to a 2012 study published last year in the journal Mayo Clinic Proceedings.
Fight or Flight
The swimming portion is especially treacherous, research shows. The bulk of triathlon fatalities have occurred during the swim event and USA Triathlon has estimated the odds of death are 1 in about 76,000 participants.
Open-water racing triggers a "fight or flight" response from physical exertion, cold water temperature or anxiety. That can speed up the heart rate which can cause hyperventilation as the body tries to slow the heart to conserve oxygen with water entering the nose, mouth and throat, according to researchers at the U.K.'s University of Portsmouth.
Reynolds, is survived by his wife and four children.
"He was a great guy," said Harris, who has been on Canaccord's board since 2004. "Paul had a big smile even during stressful times. We are going to miss him."
Before it's here, it's on the Bloomberg Terminal.
LEARN MORE