BOJ Is Said to Be Confident Japan's Inflation Is on Track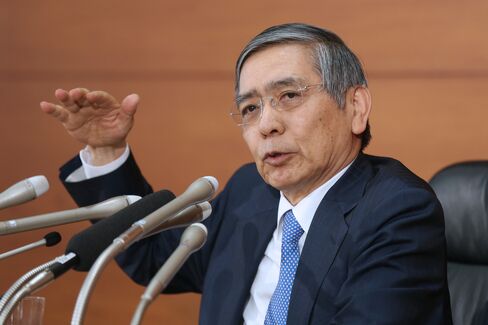 Bank of Japan policy makers remain confident that inflation is on track to meet their target, even after the latest monthly reading showed price gains stalling, said people familiar with discussions inside the bank.
As officials analyze data ahead of the policy board's first April meeting next week, weight is being given to higher wages, a tightening labor market and company profits to help drive a virtuous cycle in the economy, according to the people, who asked not to be named because the talks are private. Prices have been more or less in line with the BOJ's January outlook, they said.
The upbeat view after a spate of figures showing weakness in industrial production and consumer spending could reduce the chances of any immediate boost in monetary stimulus. Governor Haruhiko Kuroda warned last month of a temporary drop in consumer prices while maintaining that the underlying trend toward his 2 percent goal was intact.
"The BOJ won't act in April," said Masamichi Adachi, an economist at JPMorgan Chase & Co. and a former official at the central bank. "The BOJ can wait as Japan's economy is recovering gradually."
The policy board meets for a regular gathering next week and again on April 30 to formulate an outlook on inflation and the economy.
External Risks
The yen has weakened 8.7 percent against the dollar since Kuroda in October expanded the scale of unprecedented monetary stimulus he began two years ago. The Japanese currency rose 0.2 percent to 119.58 per dollar at 6:45 p.m. in Tokyo. The Topix index of shares advanced 1.7 percent on Thursday.
Some officials said it's important to keep an eye on external factors, such as the situation in Greece, the people said.
In February, people familiar with talks at the bank said BOJ policy makers viewed further monetary easing to shore up inflation as a counterproductive step for now, amid concern it could trigger declines in the yen that damage confidence.
While corporate profits have soared to record highs, the recovery from last year's recession has been weak, and large manufacturers see business conditions weakening this quarter, according to data released on Wednesday.
Inflation Stalls
The BOJ's main gauge of consumer prices, which strips out fresh food and the effects of last year's sales-tax increase, showed inflation grinding to a halt in February. A majority of economists surveyed by Bloomberg March 5-12 forecast the bank will expand stimulus by the end of October.
"Recent price developments suggest an increasing need for the BOJ to take action," Yuji Shimanaka, who forecasts further easing on April 30, said last month. "The risk of hurting its credibility is high if the central bank does nothing against a drop in consumer prices even temporarily," said Shimanaka of Mitsubishi UFJ Morgan Stanley Securities Co.
The central bank must ease monetary policy further at its board meeting on April 30, said Kozo Yamamoto, a lawmaker in Prime Minister Shinzo Abe's ruling Liberal Democratic Party, Reuters reported Wednesday.
Still, Kuroda has been counting on expectations for price increases, aided by shortages of labor, to translate into an actual acceleration in inflation.
Surveys by the BOJ indicate businesses and consumers see inflation making a comeback. Companies forecast price gains of 1.4 percent in a year, the same rate seen in December, while households see inflation at 3 percent.
Japan's labor market is the tightest in more than two decades, according to government and central bank data. Some companies are planning pay raises of 2.4 percent for the year through March, the biggest increase in 17 years.
Kazuhiko Ogata, an economist at Credit Agricole SA, said he doesn't expect the BOJ to add stimulus anytime soon, but points out that Kuroda "loves a surprise."
Before it's here, it's on the Bloomberg Terminal.
LEARN MORE