BOE Gets New 'Unofficial Governor' as Carney Appoints Aide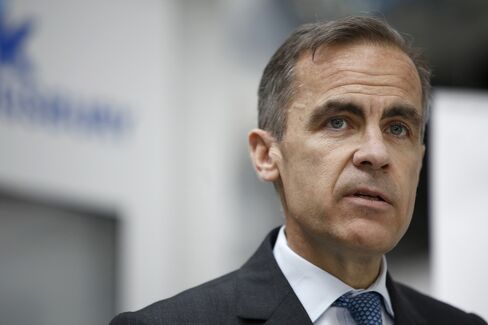 Mark Carney has just acquired a new set of eyes and ears at the Bank of England.
The governor appointed Iain de Weymarn as his private secretary, the aide in charge of his office at the central bank, a spokeswoman said by telephone. He replaced Alex Brazier, who left the job two weeks ago after his promotion to the Financial Policy Committee.
De Weymarn takes on a role described by a lawmaker last month as the organization's "unofficial governor," with a remit that offers insights into every corner of the 320-year-old institution. The post has often been a stepping stone to more senior positions within the central bank; prior holders include Deputy Governor Andrew Bailey and Paul Tucker, who lost out to Carney for the top job in 2012.
"In some ways I was his eyes and ears, and I'm sure he was well briefed on all the issues he should have been briefed on," Brazier told lawmakers about his old job during March 17 testimony in Parliament.
Brazier, who served under Carney and his predecessor Mervyn King, said he "candidly" told them what he thought, and stood his ground in policy arguments when needed.
Andrew Tyrie, chairman of Parliament's Treasury Committee, which scrutinizes the BOE, described de Weymarn's forerunner as a "familiar figure informally," and referred to the position of private secretary as "the unofficial governor."
Instructing Carney
"When we've met at the bank, you've often been in attendance telling the governor what to say -- I'm sure you'll disagree with that," Tyrie quipped to Brazier at the parliamentary appointment hearing for his current role.
De Weymarn brings more than 13 years of experience from across the BOE. He was most recently head of the BOE's Sterling Markets Division, and previously ran the unit that conducted the central bank's stress tests last year. His new job has the same management grade as a director within the bank.
"It's a very high pressure position because it covers such a broad range of policy areas these days and you have to cover the same ground as the governor," said David Tinsley, an economist at UBS AG in London and a former BOE official. "But because of that it means that the people who do it tend to get experience across the bank and as a result they're usually good candidates, as Alex was, to proceed rapidly up the ranks."
Other previous private secretaries to the governor who went on to be promoted at the BOE include former chief economist Spencer Dale, Paul Fisher, Bailey's deputy at the Prudential Regulation Authority, and the bank's current Secretary, John Footman.
Preparatory Work
According to his LinkedIn profile, de Weymarn studied economics at the universities of Cambridge and Warwick, one year behind Brazier at the same institutions. He started in the governor's office in February before Brazier left on March 16 to become Executive Director for Financial Stability Strategy and Risk.
Responsibilities of the private secretary include briefing Carney and preparatory work ahead of policy decisions, acting as his personal representative, and helping to draft speeches. The appointment comes as the first foreign BOE governor oversees a program of unprecedented change, including a three-year strategic overhaul and the integration of powers over bank supervision and financial stability.
Before it's here, it's on the Bloomberg Terminal.
LEARN MORE