Citibank Seen as Target for Plea in U.S. Currency Case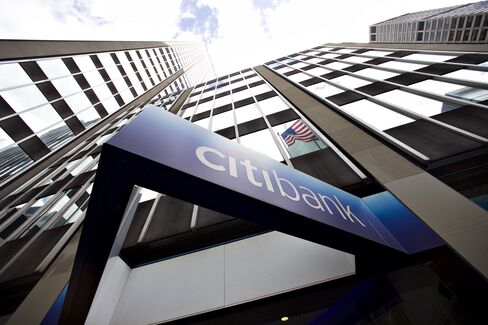 The U.S. Department of Justice is pressing for Citigroup Inc.'s main banking subsidiary to plead guilty to a felony tied to the rigging of foreign-exchange markets, according to two people briefed on the matter.
Citigroup has countered with an offer that the plea come from a subsidiary that's smaller than the Citibank NA unit, the people said, asking not to be identified discussing private negotiations. An agreement could come as soon as May and the related fine probably won't exceed $1 billion, one of the people said. Two other people said the Justice Department is weighing all options and hasn't decided on a particular entity.
A guilty plea by its main banking unit might threaten Citigroup's ability to operate certain types of businesses through that subsidiary, which accounted for more than 70 percent of the firm's revenue last year. The Justice Department has been investigating banks' alleged manipulation of currency benchmarks for almost two years, and is pressing to resolve the probe with settlements that include guilty pleas, people familiar with the negotiations have told Bloomberg.
Authorities want the pleas to come from entities of greater importance within the banks, while the companies would prefer smaller units, according to two people briefed on the talks. JPMorgan Chase & Co., for example, would rather have its U.K.- based subsidiary plead guilty, arguing the behavior occurred there, the people said.
Spokesmen for the Justice Department, Citigroup and JPMorgan declined to comment.
Derivatives Trades
Citibank NA reported $10.3 billion of net income in 2014 and at year-end it held assets of $1.36 trillion, or 74 percent of Citigroup's total, according to Federal Deposit Insurance Corp. data. The parent company books the vast majority of its derivatives trades through the unit, which typically benefits from a higher credit rating and lower funding costs.
A guilty plea by the nation's third-biggest bank would set a new bar for criminal enforcement in the U.S. financial industry. While JPMorgan and Citigroup have paid billions of dollars in fines to resolve probes into their business practices since the 2008 financial crisis, neither has been convicted of a crime in the U.S.
Settlements with the two New York-based firms would come around the same time as at least three other banks, one person said, declining to identify them. Another person familiar with the matter said last month that Citigroup and JPMorgan were in settlement talks along with UBS Group AG, Barclays Plc and Royal Bank of Scotland Group Plc. Spokesmen for all of the banks declined to comment at the time.
Price-Fixing
The banks are all expected to settle the currency probes for about $1 billion, with some paying more and others less, people with knowledge of the talks said in March. Some of the agreements probably will include price-fixing charges stemming from alleged collusion among traders, the people said.
Banks convicted of crimes are automatically disqualified from certain activities, such as private placements and managing retirement funds, unless they get waivers from the Securities and Exchange Commission and U.S. Labor Department. Firms that agree to plead guilty will want assurances they can get the waivers, the people said.
The SEC's Democratic commissioners have said it has been too quick to issue waivers, while agency Chair Mary Jo White has said it shouldn't use them as a political tool to inflict more punishment on a bank. A guilty plea from a U.S. bank would bring new attention to the process.
Credit Suisse
Last year, the Justice Department turned up the heat on non-U.S. firms by requiring Paris-based BNP Paribas SA and Credit Suisse Group AG's main bank unit to plead guilty to felony charges to end criminal probes. That raised questions about when and if U.S. prosecutors would go after a domestic bank.
Prosecutors had shied away from seeking convictions in the wake of the financial crisis as banks argued the repercussions could cripple operations and harm the global economy. They worked with regulators to ensure that Credit Suisse's guilty plea wouldn't cause major disruptions to its business or or harm the financial system, a person briefed on the conversations told Bloomberg at the time.
For an American bank, the regulatory hurdles could be more complicated. While Zurich-based Credit Suisse has a license to operate in the state of New York, nationally chartered banks are overseen by the Office of the Comptroller of the Currency, which would be central to deciding any additional regulatory consequences. Bryan Hubbard, an OCC spokesman, declined to comment.
Before it's here, it's on the Bloomberg Terminal.
LEARN MORE