Airbnb Is Now Available in Cuba
The online lodgings marketplace offers about 1,000 listings for U.S. travelers
Airbnb operates in 190 countries and 34,000 cities around the world, but its latest addition could be a momentous one. The online lodgings marketplace said today it now offers properties for rent in Cuba, becoming one of the first U.S. companies to establish itself there since President Obama and Cuban President Raúl Castro announced in December that they would restore diplomatic ties after more than 50 years.
Expanding an Internet service to Cuba means overcoming a host of challenges, including spotty Web access, limited payment options, and the still-ongoing U.S. embargo. So Airbnb is starting small: U.S. travelers can choose from about 1,000 listings throughout the country, mostly concentrated in Havana. The company says its model—stay in somebody's home, pay less than a hotel would charge—will help it facilitate travel that won't pave over Cuba's unique character, forged by decades of isolation from its northern neighbor. "Think about the big hotel chains coming in, with mass development," says Nathan Blecharczyk, Airbnb co-founder and chief technology officer. "The idea here is to support growth in travel that isn't disruptive, that actually celebrates and preserves Cuba as a distinct destination."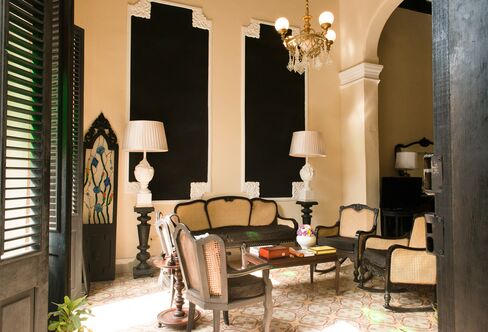 The Cuban properties on the site, their photos sprinkled with glimpses of the nation's famously ancient cars, show off a broad range of colonial architecture and are available at extremely low rates. The Home Lunass offers a private room and bathroom a five-minute walk from Old Havana for $34 a night, including free breakfast. (Dinner costs extra.) Next to the double bed is an old cassette player. "Hello to my potential guests," writes the owner, who gives her name as Yamilee. She says she rents rooms to foreigners full-time and used to practice medicine.
Like other U.S. websites, Airbnb had been forced to block IP addresses that originate in Cuba, in accordance with federal law. On Jan. 20, when the U.S. relaxed restrictions on Cuban travel, Airbnb initiated talks with the U.S. Department of State and the Office of Foreign Assets Control, which enforces trade sanctions, to clear its expansion into the country. The government agencies didn't immediately respond to requests for comment.
In February and March, the company sent employees on trips to Cuba to meet with potential hosts and learn more about the existing network of casas particulares. That's the local term for vacation rentals by homeowners like Yamilee who have long done business with tourists from countries such as Canada and Spain, typically relying on word of mouth and, sometimes, a borrowed Internet connection from a local business. In Cuba, "the Airbnb style of travel was already thriving," says Molly Turner, the company's head of civic partnerships.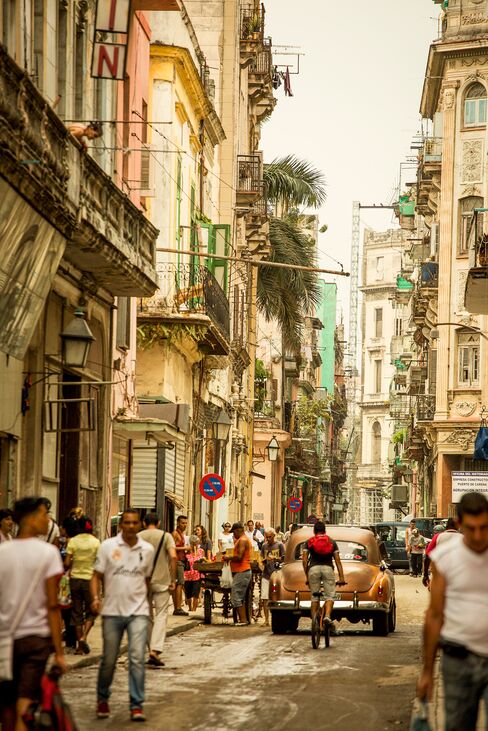 Only about 4 percent of Cuban homes have Internet access of any kind, so Airbnb had to find local intermediaries to help manage listings and connect hosts with customers. That led to the problem of paying hosts, most of whom asked for cash. That's not how Airbnb works; travelers pay online, and the site takes a 3 percent cut and transfers the rest to a host's bank account. So Airbnb had to contract a licensed money remitter to make payments on its behalf. The company chose Florida-based VaCuba, which specializes in sending cash and gifts to families in Cuba. "What Airbnb has done is quite creative," says Collin Laverty, founder of Cuba Educational Travel, which organizes U.S. exchange programs. " 'Cuba' is really a dirty word in the banking world."
As Airbnb tries to expand its Cuban network, it's likely to find some hosts unaccustomed to American travel standards—among other things, many homes don't have hot water. The company also remains limited by U.S. laws. It can't show Cuban properties to users outside the U.S. or directly help Cuban hosts design ads for their rentals. And although the U.S. has relaxed travel requirements for people visiting Cuba for reasons such as professional research, educational activities, and "support for the Cuban people," it still bans visits that are explicitly for tourism.
Airbnb's first step into Cuba is likely only the beginning, says Dan Restrepo, a former adviser to President Obama on Latin America and the Caribbean who has consulted for Airbnb on its Cuba expansion: "So little has happened between the U.S. and Cuba for so long, I don't think anyone really knows how this will develop." But, he says, "this creates connectivity between two peoples in a way that is outside the reach of government on both sides."
For more, read this QuickTake: Cuba-U.S. Reboot
Before it's here, it's on the Bloomberg Terminal.
LEARN MORE