Volcker Rule Is Next for Bank Stealth Attack, Hoenig Says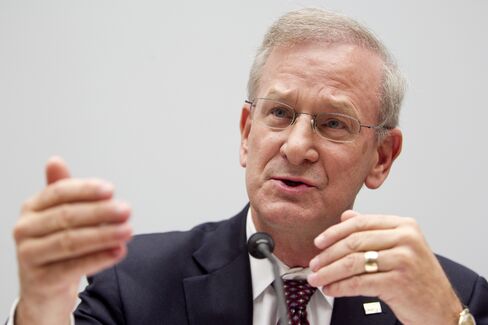 A stealth attack targeting the Volcker Rule could bring back risky trading strategies by banks and expose taxpayers to losses again, according to Thomas Hoenig, vice chairman of the Federal Deposit Insurance Corp.
"The Volcker Rule curbs banks' ability to use publicly subsidized funding to engage in high-risk trading strategies, in which they keep the gains and taxpayers share the losses," Hoenig, a frequent critic of big banks, said in an interview Tuesday. "I didn't think it would be attacked so viciously."
His concern is driven by support that fellow regulators have expressed for proposals to exempt smaller banks from the rule, which curbs speculative bets with their own money. He said the financial industry is using the issue to spearhead a broader attack on one of the most crucial elements of the 2010 Dodd-Frank Act.
"It might start out relatively small and then build to the whole Volcker Rule," Hoenig said. "There's been talk of exempting community banks from the rule, and then further discussion of 'If you exempt community banks, would you also not perhaps exempt regional banks?' I don't think it should be repealed for any group."
Federal Reserve Governor Daniel Tarullo and Comptroller of the Currency Thomas Curry have suggested Congress set a $10 billion asset threshold for banks to be subject to the trading ban. They've said that would help alleviate undue compliance costs for small firms. Because most community banks don't engage in trading activities targeted by the rule, a blanket exemption isn't necessary, said Hoenig, 68.
'Sophisticated Enough'
Only 400 of the more than 6,500 FDIC-insured banks in the U.S. hold any trading assets or investments in outside funds, which also are prohibited by the Volcker Rule, Hoenig's staff found in an analysis of regulatory filings. Most of those firms are probably just buying and selling Treasury securities or hedging lending portfolios, activities that aren't banned, he said. He estimates that only a few dozen community banks may be engaged in other types of securities trading.
"And if those are sophisticated enough to be active in capital markets truly, then they should be sophisticated enough to comply with the Volcker Rule," he said. "There's no reason to exempt them."
Bipartisan support has been building in Congress to ease the regulatory burden on community banks, which lawmakers say are being lumped in unfairly with big firms at the heart of the 2008 crisis. Another proposal backed by the Fed and OCC would raise the asset threshold for banks to be deemed systemically important, a label subjecting them to stiffer supervision and capital requirements.
The efforts haven't led to changes so far, in part because of opposition from Democratic Senators Sherrod Brown of Ohio and Elizabeth Warren of Massachusetts.
'Closed Doors'
Hoenig said he was jarred by how another part of Dodd-Frank was repealed last year after it was attached to a last-minute temporary spending bill, making it hard for opponents to fight without shutting the government. The so-called swap push-out rule would have forced some derivatives contracts to be moved away from FDIC-insured banks to broker-dealers or other units within bank holding companies.
"It happened behind closed doors, not through broad debate," Hoenig said. "I became very concerned that the next item that there'd be an attempt to repeal would be the Volcker Rule." He said he will speak publicly and to lawmakers in coming months against any rollback.
Conceived by former Fed Chairman Paul Volcker, the rule aims to let banks handle client trades without making additional bets with their own money on the direction of asset prices.
A February paper by researchers at Germany's central bank, the Massachusetts Institute of Technology and the Universitat Pompeu Fabra in Barcelona found that banks involved in trading kept adding to securities investments during the 2008 crisis while lending less to companies and consumers.
Research by Hoenig's office found that banks with higher capital ratios continued lending during the last crisis while those with lower ratios cut lending significantly. The study looked at the simple leverage ratio, which measures capital as a percentage of total assets without using risk weightings.
A separate paper in February by researchers at Harvard University's Mossavar-Rahmani Center for Business and Government found community banks have lost market share faster since 2010, probably because of the burden imposed by new rules.
(A previous version of this story corrected Hoenig's estimate for how many community banks are engaged in trading.)
Before it's here, it's on the Bloomberg Terminal.
LEARN MORE