The Syrian Crisis
Uprooted Syrians Now Hide From Their Hosts in Turkish Refuge
The Gaziantep region is home to as many as 400,000 refugees. 'Look at all of them out here.'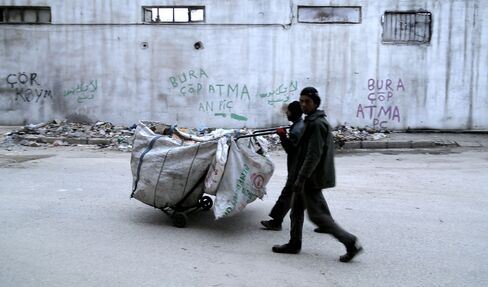 They've had enough of the Syrians.
The hard-working industrial city of Gaziantep in southern Turkey used to be best known for its carpets and pistachios, a representation of which sits on a giant plinth in the center of town. These days, the city has become synonymous with hundreds of thousands of Syrian refugees.
When Syria's civil war broke out in 2011, locals welcomed the legions of refugees fleeing across the border, which once saw a brisk trade in textiles and agriculture. They share similar cultures and a history of trade that preceded national borders. Nonprofit groups sprang up to provide services, and refugee laborers found work off the books in factories.
Four years into the conflict and with no end in sight, the Gaziantep region is now home to as many as 400,000 of the roughly 1.8 million Syrian refugees in Turkey. That's nearly a third of the city's population of about 1.4 million. The region has seen its textile exports plummet by nearly 70 percent since the war began, hit also by civil war in Iraq and chaos elsewhere in the region. Massive layoffs, fierce competition over jobs, and rising rents have withered the patience of many residents who once sympathized with the Syrians' plight.
"Before, the economy here was good, we had no problem. Now there is overcrowding in hospitals, schools, in homes—look at all of them out here" in the street, says Feyzu Sulmez, 70, a retired pistachio exporter, surveying the scene from a park bench. "The government must move them all to camps, or else I'm sure there will be more trouble," says Metin Kormuz, 68, listening to the conversation. Some rents in the area have doubled over the past two years.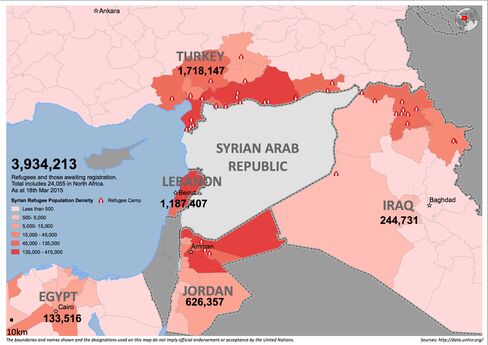 The two live in the working-class neighborhood of Unaldi, where the influx of refugees has created tension that sometimes turns violent. In August, riots erupted following the stabbing death of a Turkish landlord by one of his Syrian tenants. Some say the landlord tried to rape the woman, who responded in self-defense; others say he was attacked for trying to evict the family. Whatever the truth, groups of Turkish men stormed around the city with clubs and knives, smashing vehicles and Syrian-owned business locations festooned with Arab script.
In the wake of the violence, Syrian business owners are hiding their identity. Mohammad, a restaurateur from Aleppo, has only a Turkish flag on the window of his downtown fried chicken shop. This did not spare him from reprisals when his staff forcefully intervened to stop a cab driver from accosting a Syrian woman out front. Locals shattered windows and trashed furniture, causing more than $8,000 in damage. He says police have done nothing to punish those responsible, even after he provided video footage of the incident.
"The Turks don't like us at all," he says. "I'm half-Turkish, and that doesn't even matter."
Similar bouts of unrest and harassment have occurred in other Turkish cities, from Istanbul to Iskenderun. Polls show that more than half of all Turks believe their country shouldn't allow more Syrians to enter and that a third of those already here should be deported. Turkish officials have sent mixed messages, saying the violence isn't related to tensions over the refugees while pressing non-government organizations and local groups to fight discrimination.
While the region's blue-collar workers are getting fed up with the glut of illegal Syrian labor, textile owners around Gaziantep can't get enough of it.
"Syrians are much more hard-working than Turks, and since it's hard for them to find good jobs, they don't want to lose what they get," says Omer Faruk Coskun, a prominent factory owner who exports to Iraq, Russia, and Iran. He says unregistered Syrians are typically paid 200 lire to 500 lire less than Turkish workers, for whom he must also cover health insurance. "The Syrians are good for business," he says.
The Turkish government has called on its allies to help ease the refugee burden. So far, foreign countries and the United Nations combined have put up 5¢ for every dollar Turkey has spent, according to Dogan Eskinat, a spokesman for AFAD, Turkey's Disaster and Emergency Management Authority. With its network of refugee camps operating at full capacity, authorities are moving to assimilate refugees in urban areas by issuing identification cards that grant them basic health care and education. "Obviously, those who can support themselves prefer to stay in the city," Eskinat says.
Abdullah Khattam, a 33-year-old refugee who lost three relatives in the war, is one of them. With help from a Syrian friend, he landed a job in a textile factory that pays about 1,000 lire a month, or 20 percent less than his Turkish counterparts make. He is grateful for the steady work and says his wage is more than enough to support a family of four until the day he can return to Aleppo, which now lies in ruins.
Labor organizers and longtime residents counter that the Syrian willingness to work for less in the shadow economy has exhausted their goodwill.
"Is this our country, or theirs?" says Berdan Ozdemier, 45, a part-time taxi driver who lost his job at a textile factory, one of some 17,000 laid off in recent months. "It's time for them to go."
Before it's here, it's on the Bloomberg Terminal.
LEARN MORE