Merkel Backs Ukraine Economic Overhaul as Bondholder Talks Loom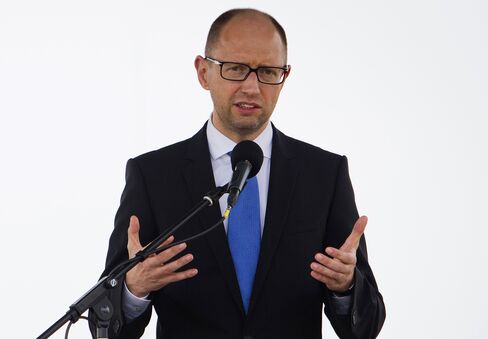 German Chancellor Angela Merkel praised Ukraine's government for its swift work in cleaning up the economy, giving a boost to the cabinet as it gears up for talks with its international creditors.
Prime Minister Arseniy Yatsenyuk, who took office in February 2014, has overseen a fight against corruption, made the tax system more transparent and started implementing recommendations from the International Monetary Fund, Merkel said at a joint news conference in Berlin on Wednesday.
"Remarkable achievements have been made" in a "very short time," Merkel said. "That will certainly strengthen the possibilities for international investment."
As casualties have waned in the conflict with pro-Russian insurgents in the country's east, Ukraine has focused on securing a deal with bondholders to curb debt payments and on restraining remaining bursts of fighting.
While the conflict has become calmer, a truce agreed on in Minsk in February is yet to be fully implemented, Merkel said. Germany will provide 300 million euros ($323 million) in credit to help restore Ukraine's infrastructure, she said.
The pro-Russian separatists were still using some of the heavy weapons including tanks and mortars whose withdrawal was mandated under the cease-fire agreed on in the Minsk accord, Andriy Lysenko, a spokesman for Ukraine's military, told reporters on Wednesday. The rebels have also repeatedly accused government troops of breaching the truce.
Bonds Rebound
The past day's fighting left four Ukrainian soldiers wounded, with no one killed, Lysenko said.
"Armored provocations continue along the entire front line," Lysenko said.
Former Ukrainian President Leonid Kuchma urged the rebels to ensure full access for the Organization for Security and Cooperation in Europe to monitor the pullback of weapons, Kuchma's spokeswoman Darka Olifer said on Facebook. Kuchma, along with Russia's ambassador and an OSCE representative, is a member of a trilateral group that was due to liaise with rebels in Ukraine's eastern regions on Wednesday.
The government's bonds due in July 2017, which capped five consecutive month of declines in March, rose 0.8 cents to 40.27 cents on the dollar by 8:24 p.m. in Kiev. Holders of Ukrainian dollar debt lost 28 percent this year through yesterday, the most among 84 nations worldwide tracked by Bloomberg indexes.
Finance Minister Natalie Jaresko said on March 24 that bondholder talks would probably begin this week. The minister urged creditors to negotiate a deal now or risk facing bigger losses.
Franklin Templeton and four other leading creditors have set up a committee to negotiate a debt restructuring, according to a person close to the talks.
The probability of a disorderly default -- one where there's no agreement with investors -- is about 30 percent, according to the median of 21 analysts surveyed by Bloomberg from March 20-26.
Before it's here, it's on the Bloomberg Terminal.
LEARN MORE