U.S. Senator Menendez Indicted by U.S. in Corruption Case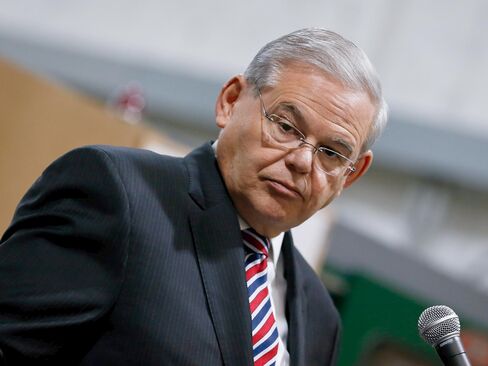 U.S. Senator Robert Menendez was indicted on corruption charges of accepting almost $1 million in gifts and campaign donations to help a friend's personal and financial interests, imperiling the political career of one of the most influential Democratic and Latino voices on foreign policy.
Menendez took gifts from Salomon Melgen, a Florida eye doctor, who sought the senator's help in getting visas for his girlfriends, fighting a Medicare overbilling case, and trying to influence the Dominican government in a port contract dispute. Menendez could face pressure to resign, and he's stepping down temporarily as senior Democrat on the Senate Foreign Relations Committee, a person familiar with his plans said.
Melgen gave Menendez "domestic and international flights on private jets, first-class domestic airfare, use of a Caribbean villa, access to an exclusive Dominican resort, a stay at a luxury hotel in Paris, expensive meals, golf outings, and tens of thousands of dollars in contributions to a legal defense fund," according to an indictment Wednesday in federal court in Newark, New Jersey.
In April 2010, Melgen gave Menendez enough American Express Membership Rewards points that he could stay in an executive suite at the five-star Park Hyatt Paris-Vendome, prosecutors said. The weekend at the suite was worth $4,934, and Menendez stayed there "with a woman with whom he had a personal relationship," according to the indictment.
The senator helped advance the visa applications sought by Melgen for his girlfriends from Brazil, the Dominican Republic, and Ukraine, as well as the sister of the Dominican woman, according to prosecutors. Melgen is married.
'Plastic Surgery'
The Brazilian woman, who got a visa in 2008, was an actress, model and lawyer who "met Menendez several times while with Melgen in New York, New Jersey, Florida, Spain, and the Dominican Republic," according to the indictment.
A Menendez staffer also drafted a letter to a consul general supporting the Ukranian girlfriend's visa application in 2007, saying Melgen invited her to "undergo medical evaluation for plastic surgery as well as to visit with him in the U.S.," according to the indictment.
Menendez and Melgen, both 61, were charged with conspiracy to commit bribery and honest services fraud; bribery; honest services fraud; and violating the travel act. Menendez was also charged with making false statements. It wasn't immediately clear when either man will make an initial appearance in court.
Cabinet Secretary
To "assist Melgen's personal and pecuniary interests," Menendez took steps to support Melgen in three government disputes, meeting a U.S. cabinet secretary, contacting a U.S. ambassador, soliciting other senators, and meeting with the heads of agencies, according to a Justice Department statement.
Throughout the Justice Department investigation, Menendez denied wrongdoing and vowed to stay in office.
"Every action I and my office have taken for the 23 years that I have been privileged to serve in the U.S. Congress has been based on pursuing the best policies for the people of New Jersey and of this entire country," Menendez said March 6.
Menendez will hold a news conference on Wednesday night.
He is the 12th U.S. senator in history to be charged while serving in office.
The indictment refers to Person A as Melgen's personal assistant and son-in-law.
Testimony Compelled
That person is Eduardo Rodriguez, according to a person familiar with the matter. Rodriguez testified against his father-in-law before a grand jury after a U.S. judge granted him immunity and compelled his appearance, the individual said. Rodriguez's attorney Jeff Neiman said he couldn't comment.
In 2012, Melgen gave $751,500 to entities supporting Menendez's reelection, including to New Jersey county Democratic organizations and Majority PAC, a super-political action committee that sought to elect Democrats to the Senate, according to the indictment. Melgen and his wife also gave $40,000 to a Menendez legal defense fund, prosecutors said.
In annual Senate ethics disclosure forms from 2007 to 2012, Menendez failed to disclose the Melgen gifts, prosecutors said.
Menendez and his staff sought to intervene with the U.S. Department of Health and Human Services after it ruled in 2009 that Melgen overbilled Medicare by $8.9 million for an eye medicine in 2007 and 2008, prosecutors charged.
The senator and his staff also advocated with the State Department on Melgen's behalf in a contract dispute over whether the doctor's company could provide port security services in the Dominican Republican, according to the indictment.
Cuban Immigrants
The U.S. probe, which began in 2013, cast a pall on the career of Menendez, a son of Cuban immigrants who rose through the political ranks in Hudson County, New Jersey. He served in the House for 13 years and entered the Senate in 2006, ascending to lead the Foreign Relations Committee. He emerged as a leading critic of President Barack Obama's efforts to forge a nuclear deal with Iran and restore relations with Cuba.
Lawmakers in Washington didn't immediately react to the indictment. Congress is on a two-week break and most lawmakers are out of town.
Frank Sharry, executive director of America's Voice, a group that advocates for changes to U.S. immigration policy, in a statement Wednesday called Menendez "a tireless fighter for immigrants and immigration reform." Menendez was co-author of immigration overhaul legislation the Senate passed in 2013 that didn't advance in the U.S. House.
"My fervent hope is that Senator Menendez emerges from the current troubles stronger than ever," Sharry said. "For he is not only the senior Senator for New Jersey; he's also the senior Senator for Latinos in America."
'Ethics Lapses'
The National Republican Senatorial Committee, the Senate Republicans' campaign arm, said in a statement that Menendez's "ethics lapses have long been a distraction" for the Senate.
"With today's indictment, the FBI and the Justice Department made it clear that Senator Menendez has betrayed the trust of New Jersey families," said NRSC spokeswoman Andrea Bozek.
If Menendez were to step down, New Jersey Governor Chris Christie, a Republican, would get to appoint his replacement and add to the party's 54-seat majority in the 100-member chamber.
If he picks a successor, Christie may appeal to a national Republican audience as he eyes a run for the White House in 2016.
"He would appoint a relatively conservative Republican that would curry favor with the national party and, of course, GOP primary voters," said Brigid Harrison, a political science and law professor at Montclair State University in New Jersey.
Contenders
One contender is state Senator Kevin O'Toole, 50, a prolific fundraiser for Christie's re-election in 2013 and a defender of his in a scandal over politically motivated lane closures that created traffic jams near the George Washington Bridge, Harrison said. Another is Kim Guadagno, 55, the lieutenant governor.
Melgen, a Dominican native with four eye clinics in Florida, told Bloomberg in 2013 that the two men are "like brothers." The senator has visited Melgen's Dominican house "many times" as well as his home in North Palm Beach, Florida, the doctor said.
Only five U.S. senators have been convicted in office. The most recent was Alaska Republican Ted Stevens, who was found guilty in 2008 of seven corruption-related felonies. The verdict was set aside the following year because of prosecutorial misconduct. Stevens was killed in a 2010 plane crash.
Menendez was a mayor and state legislator before winning election to the House of Representatives in 1992. He filled an open Senate seat in 2006, winning election that fall and a second term in 2012.
Chairman
He served as chairman of the Democratic Senatorial Campaign Committee during the 2010 campaign.
Melgen began a career in medicine in the Dominican Republic before arriving in Miami in 1979, speaking little English. He set up a practice in West Palm Beach in 1988.
A single investment made him rich. He said he provided "a substantial portion of the startup capital" as an angel investor in Seisint Inc., which developed a supercomputer system known as Matrix that could examine billions of personal records in seconds. Seisint's data mining helped authorities investigate the Sept. 11 terror attacks.
Melgen became wealthy when Reed Elsevier Group Plc bought Seisint in 2004 for $775 million. Melgen has said only that he made a "sizable profit."
Before it's here, it's on the Bloomberg Terminal.
LEARN MORE