Sales Agents Camp Out For Chanel Condos in Toronto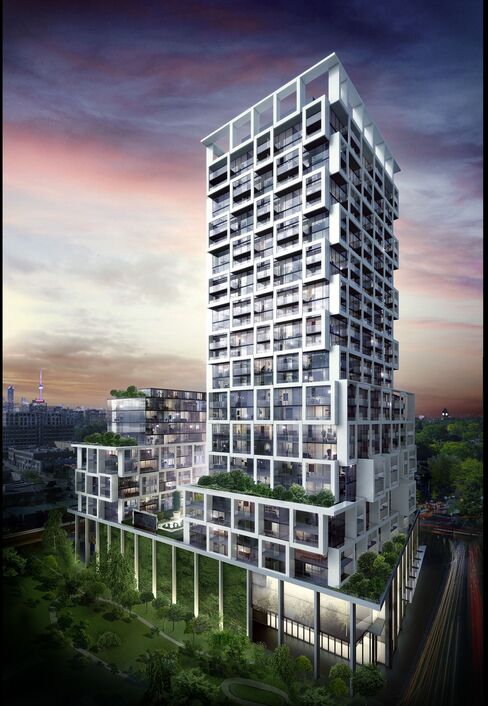 Real estate agent Terence Yoo waited in line for a week to get dibs on Toronto's latest condominium project, sleeping on the showroom floor, then paying friends thousands of dollars to hold his spot.
The payoff: securing his clients units in the Art Shoppe Lofts & Condos, with lobbies designed by Karl Lagerfeld of luxury brand Chanel. More than 50 other agents braced themselves behind him, ready to sprint through the door to claim their allotment.
"It was a race -- it looked like Black Friday," said Yoo, who works at Royal LePage in Toronto and snapped up three condos, the maximum per agent, on March 14. "But it makes sense to me. There's an over-saturation of condos in Toronto, sure. But this is different. Certain projects will be more successful and I strongly believe this is one of those."
The Art Shoppe sales event ushered in the busiest home-selling season in a city with more high-rises under construction than in any other in North America. As a drop in oil prices damps home prices and transactions in western Canada, low mortgage rates and record prices for low-rise homes are boosting demand for the city's condo towers.
The Art Shoppe, which will feature a wine-tasting room and juice bar, is among the 209 condo towers that are being built or in pre-construction marketing in Toronto as of 2014, according to local research firm Urbanation Inc.
Sales Rise
Sales of new condos surged 8.6 percent to 1,333 units in February from a year earlier, with the average price up 1 percent to C$442,672 ($349,138), according to RealNet Canada Inc. Last February marked a less-impressive start to the year, with sales rising 1.9 percent from 2013.
High-rise sales may strengthen as low borrowing costs tempt buyers. Canada's largest lenders, including Bank of Montreal and Royal Bank of Canada, are offering mortgage discounts. With the average price for a low-rise home in Toronto surpassing C$1 million in February for the first time, condos offer a cheaper alternative.
Art Shoppe includes 650 condo units starting at C$225,000, spread across a 28-story tower and a 12-story podium above two floors of retail space. Construction starts later this year.
Madonna's Gym
Competition is pushing developers to build higher and get more creative to lure buyers, according to Peter Freed, president of Freed Developments, which is building Art Shoppe with CD Capital Developments.
Toronto's 78-story Aura, Canada's tallest condo tower, has a gym backed by Madonna, for example. A planned 80-story residential building by Mizrahi Developments called The One may may break that record.
"The last 10 years in Toronto has changed," Freed said in a telephone interview. "It's gotten a lot more competitive. There's a lot at stake. It's put a common pressure to excel, which is starting to be seen on the skyline."
The Art Shoppe developers bought the 1.5-acre (0.6-hectare) site, encompassing a city block, from the Offman family for C$42 million a few years ago, Freed said. The family owned the land, near Yonge and Eglinton, for 75 years, and built what became one of Toronto's most exclusive furniture and design stores.
The glass condo project, with rooftop garden and pool, will replace the shop. The buildings, scheduled for completion in four years, are already 50 percent sold out, with remaining units open to the public starting April 24.
Before it's here, it's on the Bloomberg Terminal.
LEARN MORE