Tiger Woods Has Eight Days to Decide If He'll Compete at Augusta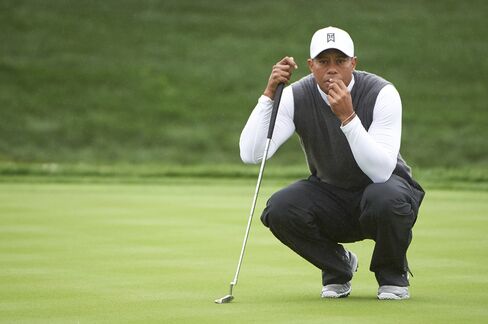 Tiger Woods has a week to decide if he'll play in golf's Masters Tournament, though indications are the four-time winner will tee it up at the season's first major championship after two months away from competitive golf.
Woods, 39, was at Augusta National Golf Club in Georgia on Tuesday for an 18-hole practice round, the Augusta Chronicle said, citing Woods's agent, Mark Steinberg. He's also played well in recent practice rounds at his home course in Florida, according to the Golf Channel.
Unlike a regular U.S. PGA Tour event, those invited to the Masters aren't required to commit to playing on the Friday before the tournament starts. Woods has a lifetime exemption as a former champion, so he has until his first-round tee time on April 9 to determine if he's ready, both physically and mentally. The Masters doesn't have alternates, so Woods wouldn't be replaced in the field if he skips the tournament.
Woods would probably disclose his decision before then, though he's yet to make any public comments about his plans.
"If he does play Augusta, this is a make-and-break week for him," Golf Channel analyst Chris DiMarco, who lost to Woods in a playoff at the 2005 Masters, said on a conference call. "If he goes out and stinks it up -- I never thought I'd ever say it because when I played with him he had the strongest mind I've ever seen -- but it's getting mental, and if it doesn't get fixed, I don't know if he can overcome it."
Tournament Withdrawal
Woods hasn't played in a tournament since Feb. 5, when a back injury forced him to withdraw from the Farmers Insurance Open after 11 holes. Six days later, Woods said in a statement that he wouldn't return to competition until he's fit and his golf game is "tournament ready."
DiMarco said he thought embarrassment was the main reason for Woods's withdrawal in San Diego, rather than a back injury.
"He wasn't doing anything good, and I think there was something wrong and he couldn't take care of it," DiMarco said. "If he's playing, then he thinks he's fixed it."
Woods struggled with his chipping and with swing changes in his most recent events, shooting an 11-over-par 82 in his last full round at the Phoenix Open on Jan. 30. On March 13, Woods said he was making strides with the practice he's put in and hoped to be ready for the Masters. The former No. 1 golfer in the world fell to 104th in the rankings this week, the lowest he's been since turning pro in 1996.
'The Yips'
Peter Jacobsen, a seven-time PGA Tour winner, said he thinks Woods could contend at the Masters if he does play, being as comfortable at Augusta National as on his home course.
Fellow Golf Channel analyst Brandel Chamblee disagreed during a conference call previewing the Masters, saying it's unimaginable to him that Woods could come to any "manageable level of short game" during his two-month hiatus. Chamblee said Augusta National is the most difficult place in the world to hit pitch shots, even without major championship pressure.
"What we saw at the Phoenix Open, that was the yips, and there's just no way he's overcome it by now," Chamblee said.
Woods is listed at 50-1 odds to win the Masters, according to the Westgate Las Vegas SuperBook. Rory McIlroy is the favorite at 6-1, followed by Jordan Spieth and defending champion Bubba Watson at 10-1.
Before it's here, it's on the Bloomberg Terminal.
LEARN MORE