Sotheby's Sells Artifacts From a Vanishing New York
In a streaming partnership with EBay, the auction house presents vestiges of a once-affordable city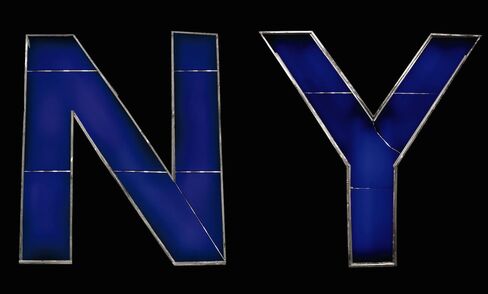 Last year, the average monthly rent in New York reached a record-breaking $3,438, according to Citi Habitats, one of the city's largest brokerage firms. Compare that to the rent of Andy's Warhol's first studio in 1963—$150 per month for an "obsolete fire house" on East 87th Street. Adjusted for inflation, that would be a relative bargain at $1,160.80 today. Warhol's signed lease will go up for auction at Sotheby's today, April 1. With an estimated sale price of $8,000 to $12,000, the auction serves as a poignant reminder of how inflated real estate is driving out the people, businesses, and diversity that made New York a cultural hotbed.
An additional case in point: The employee manual for the beloved nightclub and restaurant Max's Kansas City (MKC), which served everyone from filmmakers to politicians from the mid-1960s to the early '80s. The document labeled "standard operating procedures for waitress and busboys" states: "Over the years, Max's Kansas City has become an entity unique in itself. It has become popular as a meeting place for certain groups of people—such as artists, musicians, photographers, diversified members of 'underground films', and many unclassifiable [sic] regulars, etc. Because of these many groups, this image has also attracted an element composed of tourists and famous people watchers. This total element makes up the ambiance of Max's Kansas City." A New York hotspot where the hoi polloi are invited to intermingle and gawk at celebrities? Just imagine.
Both items will be up for sale at Sotheby's second-ever auction streamed on EBay at 8 p.m. East Coast time, part of a high brow-low brow partnership that will allow the auction house to reach an additional 36 million potential buyers. As with anything related to New York, those items won't come cheap.
Andy Warhol's studio lease
Estimate: $8,000–$12,000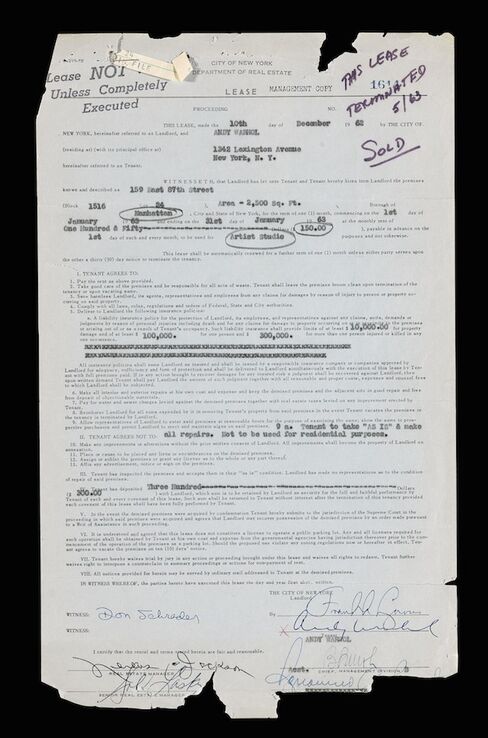 In 1963, Warhol worked on the second floor of an abandoned firehouse he rented from the city for a mere $150 a month. He would bring paintings back to his home at 1342 Lexington, between 89th and 90th streets, where they were stored, rolled, and unfurled for visitors.
Max's Kansas City Rules for Waitstaff
Estimate: $1,500–$2,000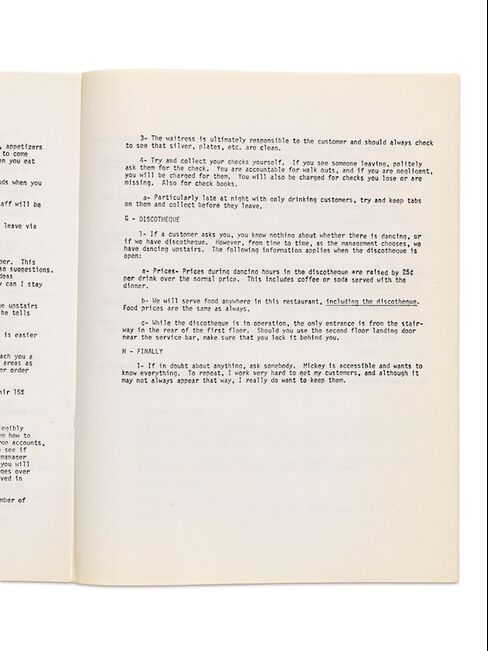 The restaurant and nightclub was a hangout for artists such as Warhol, Robert Rauschenberg, and Donald Judd, among others. A two-page memo outlines the common procedures for waitstaff while alluding to special treatment for its exceptional clientele: "If a customer is not having dinner," it says, "ask the manager whether it is all right to serve them. ... Many of our regular customers often sit at a table without eating."
New York City Transit Authority Graphics Standards Manual
Estimate: $5,000–$7,000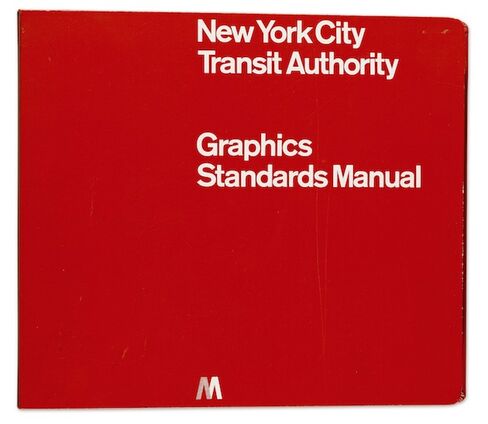 In 1970, following the merger of the IND and BMT lines, the Metropolitan Transit Authority (MTA) hired Massimo Vignelli and Bob Noorda, designers at the firm Unimark, to impose order on the chaos that was New York's subway system. Vignelli and Noorda delivered a comprehensive set of standards for signage that's still used today. The manual is a rare classic document of modern graphic design.
Yankee Stadium sign
Estimate: $300,000–$600,000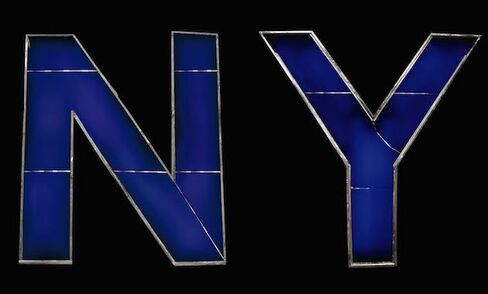 In 1976, the original Yankee Stadium reopened after a two-year renovation that included the addition of 13 10-foot-tall letters spelling out the team's name. Famed former Yankee Reggie Jackson purchased the sign when the Bronx stadium closed in 2008. Now the sign can be yours for the cost of a reasonably priced one-bedroom apartment in Manhattan.
The Destruction of Lower Manhattan
Estimate: $800–$1,200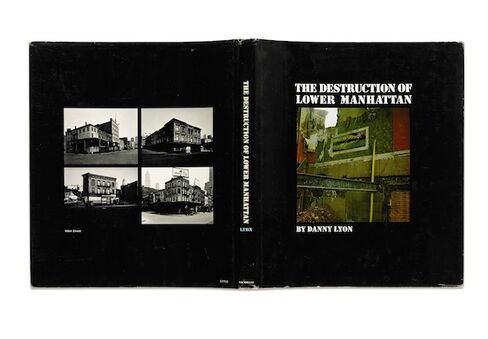 This book is a somber reminder of how New York lost large swaths of 19th-century buildings to a wave of development that included an access ramp for the Brooklyn Bridge, office buildings, and a Pace University expansion. The photographer Danny Lyon moved into a loft on Williams Street and documented the destruction, resulting in this 1969 book.
"Lower Manhattan Wrapped Building, Project for 2 Broadway, New York"
Estimate: $6,000–$8,000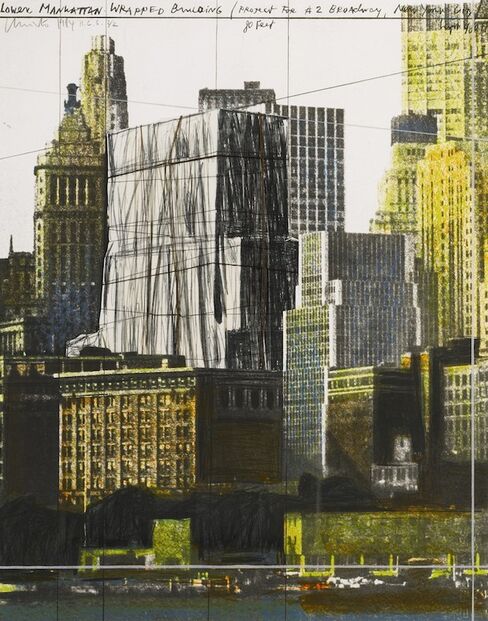 Not all artists got their way in old fancy-free New York. In 1964, Bulgarian-born Christo conceived of a plan to wrap two Wall Street-area buildings but was denied permission when he approached the owners.
Before it's here, it's on the Bloomberg Terminal.
LEARN MORE