Roumier Leads Sotheby's Burgundy Auction With Richebourg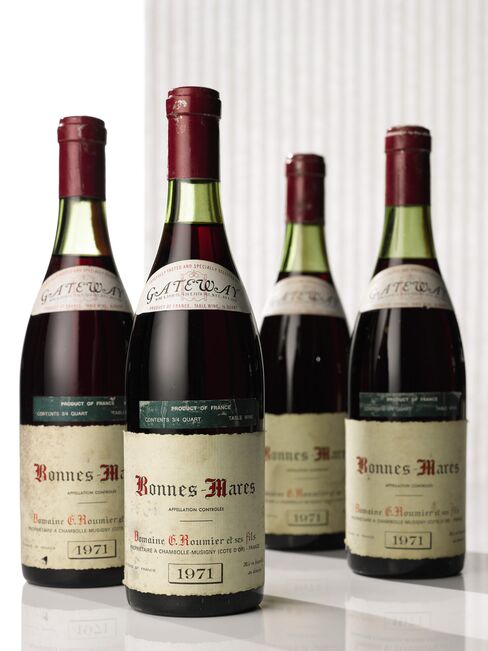 Wines from Domaine Georges Roumier and Domaine Armand Rousseau and historic Richebourg vintages from Domaine de la Romanee-Conti are set to lead a Sotheby's New York sale from financier Don Stott's Burgundy collection.
The top lot is a 12-bottle case of Bonnes Mares Domaine Georges Roumier 1971, with a presale estimate of as much as $42,500, according to an e-mailed statement from Sotheby's. Also included in the catalog are 120 lots from Domaine de la Romanee-Conti, 128 from Domaine Georges Roumier and 96 from Domaine Armand Rousseau.
Demand for rare Burgundies has driven auctions over the past couple of years as Asian buyers and other collectors have focused more on that region than on the Bordeaux wines that powered a market bull run in 2010 and 2011. Leading Burgundies are produced in smaller quantities than wines from the larger Bordeaux estates, underpinning their prices.
"It's certainly the greatest Burgundy collection sold by Sotheby's New York," Duncan Sterling, vice president and head of New York wine auctions, said in a phone interview. "It's all-encompassing."
A three-liter Jeroboam of Richebourg 1949 DRC carries an estimate of as much as $20,000 while three bottles of 1929 Richebourg are priced to fetch as much as $12,000. A magnum of La Tache 1971 DRC carries a top estimate of $15,000.
Domaine Leflaive
Wines from Rousseau include 10 bottles of 1985 Chambertin Clos de Beze with a top estimate of $30,000, while 41 lots from Domaine Leflaive include six bottles of 2002 Montrachet with a top estimate of $22,000.
"Don is one of the great collectors of Burgundy," Sterling said. "Of the big names people are looking for, he has great vintages and good qualities."
The two-day sale, estimated to fetch as much as $6.2 million, starts May 8 in New York.
Before it's here, it's on the Bloomberg Terminal.
LEARN MORE