Germany's record low unemployment is persuading Europe's nation of savers to open their wallets and live a little.
Take Olaf Heintze, who splashed some of his engineer's salary on a bottle of Scotch whisky he tried at a recent tasting. At 65 euros ($70), it wasn't exactly cheap. Still, he felt he'd earned it.
"A bit of luxury every now and then is important," the 52-year-old Hamburg resident said as he left a liquor store with his Ardbeg Corryvreckan. "Times are good in Germany, and I am happy about that."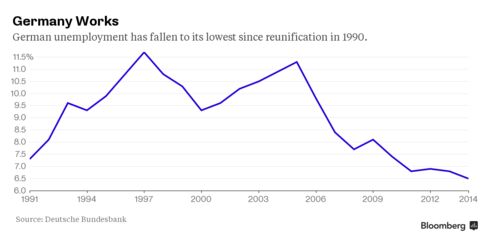 Heintze's purchase contributed to the country's rising retail sales, which jumped 3.6 percent in February. It was the third straight monthly increase, coming after 2014 marked the biggest leap in 18 years. The gains are thanks to the lowest unemployment rate — 6.4 percent — since reunification, the drop in oil prices and rising salaries. In short, people have more money in their pockets and relative job security — spurring them to seize the moment and go shopping.
"Retail sales have started this year excellently," said Christian Lips, an economist at Norddeutsche Landesbank in Hanover. "This won't cool off. It's not an overly euphoric sentiment that we're seeing right now."
Rising consumption in Europe's largest economy is propping up the euro area's recovery as other members struggle with near-record high unemployment. Germany, which has prioritized balancing its budget, has been criticized by some European partners and the U.S. for not spending more to boost growth.
Savings Drop
Germans' willingness to spend is at the highest level since 2006 as they shift slowly away from their long-held preference to squirrel away their money. The average German household had saved 9.8 percent of income at the end of 2014, down from a 1991 peak of 13 percent.
European Central Bank policies have helped feed the trend, according to Boris Planer, a Frankfurt-based economist at Planet Retail Ltd., a research consultancy. With ECB President Mario Draghi cutting interest rates and introducing a 1.1 trillion-euro quantitative easing program, there's little incentive to stash money in the bank.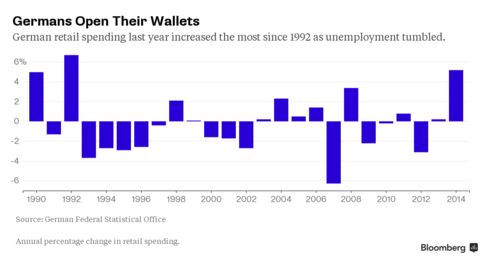 "People are spending more because trust in the euro, in monetary stability, isn't really there," Planer said by telephone. "Because of the low interest rates, there isn't much point in saving, either, so people spend it on durable goods."
German car sales in February reached their highest level in three years, as purchases jumped 6.6 percent.
Spending Limits
"We've had a really good few months," said Peter Schuerer, who owns a dealership selling Hyundai and Subaru cars in the Bavarian city of Würzburg. "People used to use a lot more financing, but now they say that it makes no sense to keep money in the bank, so they prefer to pay cash up front."
The spending spree has its limits, with most Germans still making sure they have enough for a rainy day. Their savings rates remain far above the 5.9 percent of income for British households and 4.9 percent for Americans.
"Not saving money but spending it all on consumption -- that's not the right way to do it," said Hans Funck, a 60-year-old banker, as he window-shopped with his wife at a Hamburg mall. "You need reserves for emergency situations. I am too much of a banker in that respect. We might see bad times returning."
Right now, the times are good. The drop in the oil price is putting more cash in consumers' pockets, while real wages, which take inflation into account, increased 1.6 percent in Germany last year, the most since data collection started in 2008. Much of that money ends up in retailers' coffers.
"All that adds up to a significant increase in private consumption," said Ralph Solveen, an economist at Commerzbank AG in Frankfurt.
The purchasing power was evident this week in Munich, where droves of shoppers scurried about on downtown shopping streets, undeterred by gusty winds.
"I've just bought a new iPhone," Martin Huth, a 53-year-old doctor, said as he left the city's Apple Inc. store. "I've been thinking about it for a while, but now seemed the right moment."
Read this next:
Before it's here, it's on the Bloomberg Terminal.
LEARN MORE