Philippines on Super Typhoon Alert as People Head to Beaches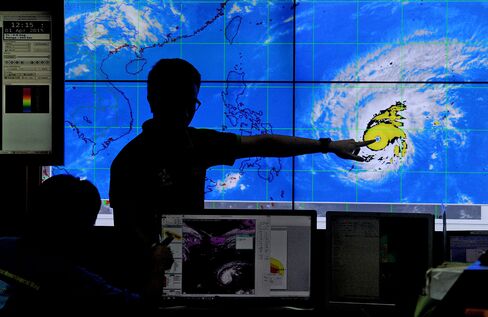 The Philippines placed its military on the highest alert and asked millions of people heading to beach resorts for the Easter holidays to prepare for Super Typhoon Maysak, a storm expected to hit land on April 4.
Maysak was 1,165 kilometers (724 miles) east of Eastern Samar province, with maximum winds of 190 kilometers per hour and gusts of 225 kilometers per hour, the Philippine weather service, Pagasa, said in a 5 p.m. report Wednesday. By April 5, the storm may be 123 nautical miles from Manila, its closest point of approach to the capital, according to a forecast by the U.S. Navy's Joint Typhoon Warning Center.
"We have to move as early as now," armed forces Chief of Staff Gregorio Catapang said in a televised briefing. "The challenge is how to protect tourists, especially the foreigners who probably don't know where the evacuation areas are."
The public should remain wary of Maysak, even though it may weaken as it approaches the country, the weather bureau said.
The typhoon will probably hit either Aurora or Isabela provinces on the main island of Luzon after entering Philippine waters as early as Wednesday night, the weather bureau said. Fishermen were advised not to venture out to sea, Alexander Pama, executive director of the National Disaster Risk Reduction and Management Council, said in a televised briefing.
Maysak killed at least five people on a western Pacific Ocean island, the Associated Press reported, citing the Pacific Daily News newspaper in Guam.
3.1 Million People
The Philippines, battered by cyclones that form over the Pacific Ocean, is the second most-at-risk nation globally from tropical storms after Japan, according to Maplecroft, a research company based in Bath in the U.K.
The country was among the most-affected by weather-related events in 2013, with losses reaching $24.5 billion, or 3.8 percent of gross domestic product, according to environmental group Germanwatch. Super Typhoon Haiyan, the strongest storm in the world to hit land, killed more than 6,000 people in November 2013.
Maysak may affect as many as 3.1 million people, the United Nations' Global Disaster Alert and Coordination System said on its website. The storm, whose name refers to a species of tree, may have "a high humanitarian impact," it said.
Before it's here, it's on the Bloomberg Terminal.
LEARN MORE