One Economist Just Delivered a Scathing Indictment of the New Greek Government
Rarely has a new government caused so much economic damage in such a short time. The rise of Greece's radical left to power has aborted the Greek recovery, paralysed domestic investment and triggered capital flight of €50bn within 3 months, equivalent to almost 30% of Greek annual GDP.
Holger Schmieding, chief economist at Berenberg, sure knows how to start a client note.
He is scathing on the damage he sees brought to the Greek economy by the election of the Syriza government.
He used this chart to illustrate his point: the collapse in Greek corporate confidence coincides with the election of the Syriza government.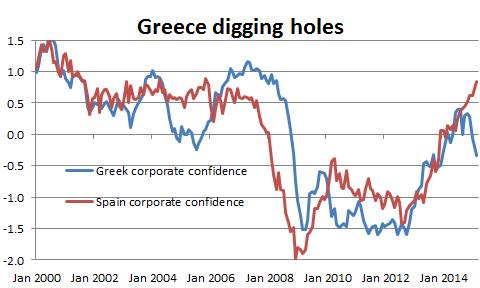 The answer to what Syriza needs to do immediately is easy, according to Schmieding. The country needs to:
- stop digging an ever deeper hole

- adopt the right kind of pro-growth supply side reforms
Which would amount to a complete reversal on the path Greece has taken:
Syriza's key ideas in its current talks with creditors, namely a partial reversal of the labour market reforms of the last few years, fewer privatisations and more social spending to be paid for by raising the tax burden, would be precisely the opposite of what Greece needs.
Greece should follow in the footsteps of German Chancellor Gerhard Schröder who, after a few "wild months" in office after his October 1998 election, managed to introduce "the best supply-side reform package Germany had had in 40 years," he wrote.
Schmieding said that Greece's Tsipras will have to make up his mind fast. When Schröder was elected in Germany, he was able to waste his first full term in office before becoming serious on reform. Tsipras does not have the luxury of so much time.
If Greece ends the scary rhetoric and the crippling uncertainty about its fate by striking a sensible deal with its creditors fast and if it goes for serious pro-growth reforms to the supply side, it would have no need for any further fiscal hit.
If Syriza were to follow Schmieding's advice, it would be one of the largest political u-turns in history.
Before it's here, it's on the Bloomberg Terminal.
LEARN MORE