Inequality Forces Yellen to Toe the Line Between Economy, Politics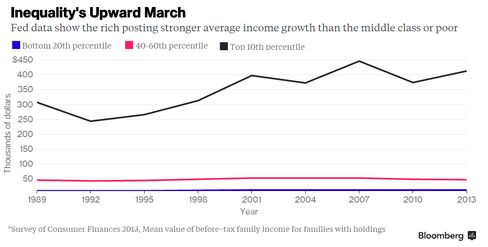 Janet Yellen is set to deliver remarks at a Federal Reserve conference on economic mobility on Thursday. Though monetary policy isn't the topic of the day, she'll still need to weigh every word.
Some Republican lawmakers say the Fed chair sided with Democrats on economic inequality during an October speech, overstepping the Fed's politically independent role.
This conference topic -- economic mobility -- is a separate but related issue, potentially exposing Yellen and her Fed colleagues to political scrutiny once more. It will also feature remarks from three other Fed officials.
Yellen's job includes assessing the chief economic issues of the day, so she must address America's growing income gap and its implications for economic mobility and growth going forward, economists say. At the same time, the Fed must stay above the political fray. Striking that balance is crucial right now: Yellen is defending Fed independence against a congressional push for greater oversight.
"Does the chair of the Federal Reserve have to be careful? Yes. Do they have to be even-handed? Yes," said Richard Reeves, a senior fellow in economic studies at the Brookings Institution in Washington. At the same time, "it would be almost a dereliction of duty not to be looking at the issue" of inequality, he said.
Income and wealth inequality have been climbing for decades, and the Fed's latest Survey of Consumer Finances shows the divide continues to widen. Mean pre-tax income for the top 10 percent of earners was 34 percent higher in 2013 than in 1989. Households between the 40th and 60th earnings percentile saw less than a 1 percent gain.
Best Schools
As the rich grow richer, economists and policy makers are concerned that opportunities and mobility for the poor and middle class could decline. If some parents are able to afford expensive childcare, the best schools and elite college tuition, their children may stick at the top, while less-privileged Americans are mired lower down the scale.
Research by Harvard economist Raj Chetty and colleagues shows that intergenerational income mobility has held steady in recent decades, however. In the October speech, one of Yellen's conclusions was that more work is needed to assess whether inequality of opportunity will affect economic mobility going forward.
The topic of her comments this week hasn't been announced. They are billed as opening remarks for the Fed-sponsored conference, to be held April 2-3 in Washington. The event will include sessions on intergenerational economic mobility and the impact of families and communities. Fed Governor Lael Brainard, St. Louis Fed President James Bullard and Minneapolis Fed chief Narayana Kocherlakota will also take part.
Politically Charged
Representative Mick Mulvaney, a Republican from South Carolina, said it's fine if Yellen talks about mobility as an economic issue. He said he took issue with October's inequality speech because she discussed "politically charged" topics.
Yellen's statements -- including her comment that rising inequality trends "greatly concern" her -- took a stance on the issue, said Michael Strain, deputy director of economic policy studies at the American Enterprise Institute in Washington. "She's stepping outside the role of an objective analyst describing facts, and she's talking about values."
Veering out of politically neutral territory is dangerous right now, Strain said. If Yellen continues to make comments that are perceived as political, lawmakers could use that as ammunition as they push to restrict the Fed's independence from Congress, he said. He expects her remarks this week will be "very reasonable."
Transparency Push
Fed officials are stepping up their campaign against proposed legislation that would erode their regulatory authority and subject monetary-policy decisions to scrutiny by lawmakers. Republicans this year took control of both houses of Congress for the first time in eight years, and some are calling for more oversight.
Yellen, a Democrat who led the Council of Economic Advisers in the Clinton administration, is not the first Fed chair to riff on inequality and opportunity. Her Republican predecessor, Ben Bernanke, gave a 2007 speech on the distribution of economic well-being in which he noted that inequality was growing and gave no policy prescriptions. Alan Greenspan, also a Republican, gave the opening speech at a 1998 Fed conference in Jackson Hole, Wyoming on income inequality and policy options.
She's also not the first to be accused of political bias. While Bernanke largely avoided political commentary, Strain said, Greenspan came under fire after he "veered out of his lane," such as when he endorsed President George W. Bush's tax cut plan.
Republican Criticism
Greenspan was criticized for those comments, just as Yellen has been questioned about her inequality speech.
During a House Financial Services Committee testimony in February, Republicans pointed out that she had taken up an issue on which Democrats were campaigning, just weeks before the 2014 midterm election.
Yellen maintained that her comments were not political and that she'd "heard politicians on both sides of the aisle lament rising income inequality." She also said that Fed chairs have traditionally talked about large economic issues, even when the Fed isn't the proper agency to deal with them.
"I am discussing a significant problem that faces America," she said. "All of us treasure living in an economy where we feel that people who work hard and play by the rules can get ahead and can see themselves succeed and advance."
Before it's here, it's on the Bloomberg Terminal.
LEARN MORE