Human Rights Groups Condemn Civilian Deaths in Yemen Air Strikes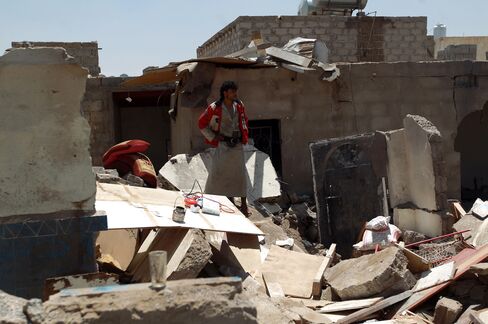 Human rights organizations condemned the mounting civilian death toll in Yemen from Saudi-led airstrikes, while aid agencies said it's becoming increasingly difficult to deliver relief in the impoverished country.
Saudi Arabia has assembled a coalition of Sunni-led countries to carry out air strikes against Shiite Houthi rebels in an effort to restore President Abdurabuh Mansur Hadi to power. Since the air campaign began last week, at least 93 civilians have been killed and 364 injured in five provinces, according to the United Nations.
"The situation in Yemen is extremely alarming," Zeid Ra'ad Al Hussein, UN High Commissioner for Human Rights, said in a statement Tuesday. "The country seems to be on the verge of total collapse."
Homes, hospitals, schools and infrastructure have been destroyed, and civilian airports and electricity supplies have also been targeted, Al Hussein said.
At least 62 children have been killed and 30 injured during fighting in the past week, according to the United Nations Children's Fund, or UNICEF.
U.K.-based Amnesty International called on the coalition to take precautions to prevent civilian deaths.
"The Saudi Arabian-led coalition is turning a blind eye to civilian deaths and suffering caused by its military intervention," Said Boumedouha, deputy director of Amnesty's Middle East and North Africa program, said in a statement.
The International Rescue Committee, based in New York, said on its website that it has suspended programs in southern Yemen because of the violence. The group, which provides water, nutrition and other assistance, says 60 percent of Yemen's 26 million people require humanitarian aid.
Air strikes and clashes have created "huge needs" for medical aid, but the closure of airports and restrictions on sea ports is hindering humanitarian assistance, Doctors Without Borders said in a statement. The organization said it's unable to deploy additional emergency medical staff to Yemen.
The International Committee of the Red Cross said in a statement that medical supply deliveries are stalled and a Yemeni Red Crescent volunteer was shot dead Monday while evacuating wounded.
Before it's here, it's on the Bloomberg Terminal.
LEARN MORE