Hedge Fund Mines Twitter for Stock Tips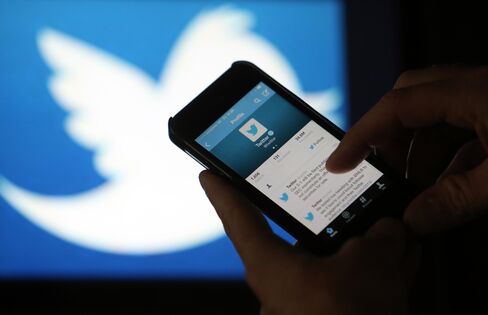 People share more information than you might want to know on Facebook and Twitter. Hedge fund firm Tashtego hopes to profit from it.
Tashtego, backed by early Twitter Inc. investor Spark Capital, plans to raise a fund that will use consumer sentiment and trader behavior from social networks to bet on and against U.S. stocks, said Chief Investment Officer Arthur Mateos. The Boston-based firm's Social Equities Fund, which relies on algorithms, is expected to eventually reach $1 billion in capital, the 45-year-old said.
Spark Capital, a $2 billion venture firm also based in Boston, decided five years ago to assemble a team that would use social information flowing from its portfolio companies and other businesses to make trading decisions. The firm sought out Mateos, Karla Usalis and Jason DeBettencourt to start Tashtego, named for a harpooner in "Moby-Dick" who retrieves oil from a whale.
Tashtego's strategy involves tracking all-purpose social networks such as Twitter and Facebook, and online communities set up specifically for investors to share and follow each other's trading ideas. Tel Aviv-based EToro, whose early venture backers include Spark Capital, is the biggest such social investing network.
Social investment networks have grown in popularity along with broader sites such as Twitter. They started in the middle of the last decade, mostly within foreign-exchange markets, and later expanded to stocks. Before setting up the stock fund last year, Tashtego started a foreign-exchange pool in 2013 to trade based on data from social networks, Mateos said.
Mateos, who began his career as an experimental nuclear physicist at Massachusetts Institute of Technology, later co-founded Service Integrity, a provider of real-time business intelligence software, and was a general manager of emerging technologies at Gomez.
Spark Capital, which owns a majority stake in Tashtego, is also an investor in its hedge funds. Santo Politi, a general partner at Spark, declined to comment on Tashtego's fundraising.
Before it's here, it's on the Bloomberg Terminal.
LEARN MORE