French Energy Minister Has EDF Investors Scurrying for the Exits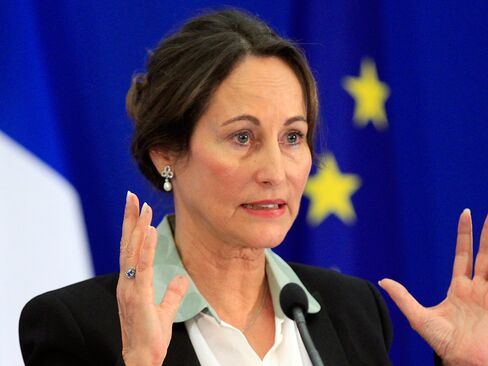 Electricite de France SA investors have a problem. Her name is Segolene Royal, the French Energy minister.
The 61-year-old Socialist has boosted her political career by proposing industry reforms and accusing the government-backed power utility and other companies of charging too much on the backs of the poor. Along with France's weak economy, Royal's comments have helped push EDF's shares down 24 percent in the past 12 months.
Last month Royal told a popular RMC interviewer that the government was considering pushing together the money-losing nuclear reactor builder Areva SA in a merger with EDF, Europe's largest power producer. EDF shares lost as much as 2 billion euros ($2.15 billion), or 4.4 percent, from an already battered share price.
In June, on the same RMC radio show, she announced that a plan to raise power rates by 5 percent would be scrapped. That wiped out as much as 6 billion euros off EDF's market value during that trading day, or about 12 percent.
"There is no reason for those who are in dominant positions to continue to get regular tariff increases at the expense of consumers," Royal, the former partner of President Francois Hollande with whom she has four children, said in a recent interview. "Everyone has to contribute to the collective effort. The world has to change."
A year into her job, her comments haven't made life easy for EDF Chief Executive Officer Jean-Bernard Levy, who is grappling with what he says is "the delicate balance" of spending billions for refurbishing aging nuclear reactors and the relatively low power rates French households pay.
"When I speak with Madame Royal we have very useful conversations," said Levy. "I think she plays a useful role."
'Super Profits'
Fitch Ratings analyst Josef Pospisil said last week "political uncertainty" has kept the utility's outlook negative.
France's toll-road operators came in for similar treatment by Royal, whose ministry also oversees the environment and transport. On RTL radio Oct. 14, Royal said highways should be free on weekends and levies for the rest of the time cut by 10 percent. And she took aim at the "super profits" of operators that include Vinci and Eiffage SA. Spokespeople at the companies declined to comment.
"Every day brings its surprises," French Finance Minister Michel Sapin said in response to the comments, adding that Royal's interventions may take Socialist colleagues off-guard as much as investors.
What's bad for utilities' share prices seems to be good for Royal's political comeback. Her rhetoric has helped boost her own standing within a generally unpopular government that lost ground to France's right wing in the March 29 local vote.
Government's 'Star'
Opinion surveyor Ifop last month placed her third among French women in politics behind International Monetary Fund managing director Christine Lagarde and far-right leader Marine Le Pen.
"She's one of the stars within the government," said Emmanuel Riviere, a pollster at TNS Sofres.
Royal's methods have distinguished her among fellow ministers.
She can give the impression of "coming straight out of left field," according to Jean Chiche, a senior researcher at the political research center of Science Po in Paris. "One has to be careful not to dismiss her though because she often ends up being right or getting her way."
Economy Minister Emmanuel Macron said Thursday on BFM radio that EDF is considering buying a stake in Areva's reactor unit. Meanwhile, Royal cut EDF's planned rate increase to just 2.5 percent last year. Her decision to freeze toll rates is being challenged in court.
'Improve Lives'
As minister she has been the guardian of Hollande's promise to lower dependence on nuclear power and keep a ban on oil fracking. She's also planning to play a major role in the next round of United Nations climate change negotiations, which will be held in Paris at the end of the year.
Her renaissance comes after years in the political wilderness following her defeat in the 2007 presidential election to conservative Nicolas Sarkozy, a subsequent failed bid to head the Socialist party and a loss in a 2012 race for a seat in the National Assembly.
As graduates from the same class at the elite Ecole Nationale d'Administration, she and Hollande's private and political lives have long been intertwined. Hollande brought her into the government only after he had broken up with Valerie Trierweiler, the journalist he left her for in 2006.
As Royal's star continues to rise, she's determined to drive home her message of helping those struggling amid the country's protracted economic slump.
"At the end of every day, I ask myself whether I used the tools of my ministry to improve the lives of the French in the areas I oversee," Royal said in the interview.
Before it's here, it's on the Bloomberg Terminal.
LEARN MORE