Five Things Everyone Will Be Talking About Today
Look busy, there's a lot going on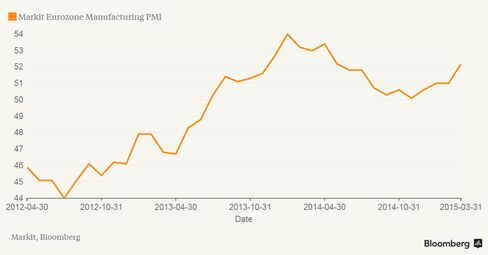 Manufacturing data, Chinese stocks at seven-year high, Nigeria's peaceful power transfer, Iran talks and why U.S. treasuries might have a good month. Here are the things that people will be talking about today.
European manufacturing expands
Markit Economic's Purchasing Managers Index for the euro area rose to 52.2 in March, higher than the preliminary reading of 51.9. Growth in Spain and Italy coupled with a very strong performance in Germany helped drive the index higher. Separately, U.K. manufacturing PMI climbed to 54.4, pointing to the fastest acceleration in eight months.
Chinese stocks rise to seven-year high
The Shanghai Composite Index closed at 3,810.29, a seven-year high, on the back of government data showing an unexpected expansion in manufacturing. Separately, new data from a survey conducted by China's Southwestern University of Finance and Economics shows that the biggest new investors in China's equity markets have not attained a high-school level of education.
April might be a good month to own U.S. treasuries
U.S. treasuries have advanced every April since 2010, according to data compiled by Bloomberg. While the driver of this is not certain, one theory suggests that Japanese buyers come to the market at the start of their fiscal year, which is today, April 1.
Peaceful handover in Nigeria
Muhammadu Buhari, a former military ruler, has been declared winner of Nigeria's presidential election. Goodluck Jonathan, president since May 2010, conceded defeat in an e-mailed statement, setting up a peaceful transfer of power. Nigerian markets reacted positively to the election result.
Iran nuclear talks
Talks on Iran's nuclear program continue in Lausanne, Switzerland. Statements are expected later today on progress towards the next stage of technical discussions. Any successful negotiation would lead to the easing of international sanctions on Iran, and the opening of oil markets to Iranian crude.
Must reads:
- An exclusive interview with Brazilian President Dilma Rousseff
- The rise and fall of Drexel Burnham Lambert: an oral history.
Before it's here, it's on the Bloomberg Terminal.
LEARN MORE