Europe Set to Break 18-Month Warm Streak With Colder April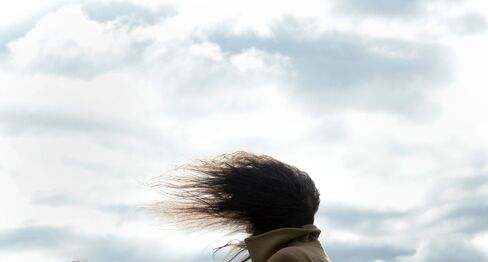 Temperatures in Europe are forecast to fall below average for the first time in 18 months, potentially spurring utilities to boost use of natural gas held in storage.
Most of the region will be colder-than-normal in April, according to seven out of eight forecasters surveyed by Bloomberg, as cool air sweeps in from the Atlantic. Gas stockpiles in the U.K., Europe's most traded market, are below the five-year average and at the lowest level for this time of year since 2013, according to data from Brussels-based lobby group Gas Infrastructure Europe.
Record warm weather last year cut demand for gas used in heating, sending U.K. prices down 28 percent, the biggest annual decline since 2009. European Union consumption fell 11 percent in a fourth year of declines, according to Eurogas in Brussels. The return of colder-than-average weather will coincide with supply curbs in Norway and Qatar, Europe's biggest producer and the world's biggest supplier of liquefied natural gas.
"Short term, cold weather means storage will be further depleted as there is no LNG on the horizon due to Qatar Gas maintenance," Wayne Bryan, a senior analyst at Alfa Energy Group in London, said by e-mail Tuesday. "Supplies will also be limited due to a rather heavy maintenance schedule, especially from Norway."
Every month since September 2013 has been warmer than normal, according to WSI Corp. in Andover, Massachusetts, which says western Europe and the U.K. will be colder-than-normal next month.
Southern Germany
Temperatures may fall as low as 8 degrees Celsius (14 Fahrenheit) below the norm early this month in parts of Eastern Europe and southern Germany, Joe D'Aleo, chief meteorologist at New York-based WeatherBell Analytics, said Monday by e-mail.
Germany, Europe's biggest energy market, will be as much as 5 degrees Celsius below normal on April 4 and 1.5 degrees colder-than-average through the month, according to MeteoGroup in Appenzell, Switzerland.
As temperatures cool, gas demand for heating during the first two weeks of April will increase by about a third compared with the same time last year in the U.K., France, Italy, the Netherlands and Belgium, consultants Energy Aspects Ltd. in London said Monday in a report.
The beginning of annual maintenance at fields in Norway helped boost the premium gas for delivery in April commanded over May futures, according to Pira Energy Group in New York. The U.K. April contract on ICE Futures Europe expired at a premium of 1.75 pence a therm to gas for delivery in May, a 25 percent increase this year.
Gas for next-month delivery gained for a second time in three days, rising 1.2 percent to 46.45 pence a therm ($6.90 a million British thermal units) at 1:41 p.m. London time on ICE.
Gas Maintenance
Annual maintenance at the Kollsnes processing plant will cut Norwegian supplies by as much as 144.5 million cubic meters a day from April 10-16, according to operator Gassco. That's 49 percent more than average daily Norwegian supplies to the U.K. in the past 10 days. Works at a non-specified field will limit flows by 120 million cubic meters a day from April 10 to April 28.
The second half of April may be "rather cool with unsettled conditions spreading across the north and much of continental Europe," Matthew Dobson, senior energy meteorologist at MeteoGroup in London, said by e-mail.
Not all of Europe will be cooler next month. Iberia and the Baltic States are predicted to be warmer than usual this week while east Scandinavia is expected to be as much as 3 degrees higher than normal for most of the month, according to MetraWeather.
Nordic Weather
The average temperature for the Nordic region is forecast at 3.5 degrees Celsius next week, compared with a 10-year average of 2.9 degrees, according to Bloomberg's weather model using WSI data.
Temperatures in France are predicted to be as much as 2 degrees below normal in the week to April 12, MetraWeather said. The nation's power demand is the most sensitive in Europe to cold spells due to its high dependence on electric heating, according to RTE, the grid operator.
Europe's cold spell is poised to continue into May. MDA Weather Services expects below normal temperatures throughout the region. WSI says south Europe and the U.K. will be cooler than normal in May with temperatures in the rest of the bloc rising above normal.
Before it's here, it's on the Bloomberg Terminal.
LEARN MORE