Credit Suisse Debt Prowess Risks Spoiling Bets on Thiam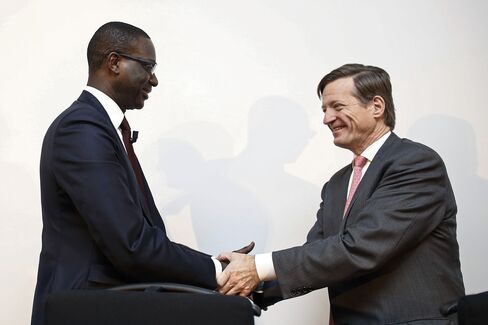 Investors betting Tidjane Thiam will slash debt trading when he takes over at Credit Suisse Group AG risk disappointment.
The shares are up 15 percent since Thiam's appointment, partly on speculation he'll imitate UBS Group AG by making deep cuts to fixed-income trading. That would prove difficult for Credit Suisse, which has been growing that business.
"Thiam may need to find a different solution than just following UBS," said Jon Peace, an analyst at Nomura International Plc in London. "Credit Suisse's strengths historically have been in fixed income."
Debt trading has fallen out of favor with investors after regulators increased capital requirements following billions of dollars of losses across the industry during the financial crisis of 2008. Credit Suisse has been winning market share as rivals retreated, while losing ground in areas such as merger advice, which require little capital.
Fixed income was the largest source of revenue at its investment bank last year, making up 42 percent. The Zurich-based bank's portion of the debt-trading revenue produced by the biggest investment banks rose to 8.1 percent last year from 6.7 percent in 2012, data compiled by Bloomberg show.
Nuanced Way
UBS, by contrast, had the lowest revenue among major debt-trading firms when it decided to shrink the business by more than 70 percent in 2012.
Credit Suisse gained 0.6 percent to 26.70 Swiss francs as of 10:49 a.m. in Zurich trading Thursday, valuing the bank at 42.9 billion francs ($45 billion).
Thiam, who has run U.K. insurer Prudential Plc since 2009, hasn't said what he'll do when he replaces Chief Executive Officer Brady Dougan, who leaves Credit Suisse at the end of June. He wouldn't comment for this article, a Prudential spokesman said.
Reducing the capital allocated to Credit Suisse's investment bank could be done in a more nuanced way than slashing whole business areas, said Lara Warner, the finance and operating chief for the unit.
"There are continued opportunities to do so much more geographically and on a client level," Warner said in a phone interview. "I do not think we will be faced with the question of fixed income versus equities versus banking."
The three heads of the investment bank at Credit Suisse all sit on the company's 10-person executive board. Gael de Boissard runs the debt business, Jim Amine leads advisory and underwriting, and Tim O'Hara heads equities.
Anxious Bankers
The firm has lost market share in advisory services, the part of the investment bank that aligns most closely with wealth management, where the ultra-rich may want help bringing companies to market or selling family-owned businesses.
Credit Suisse's portion of the revenue produced by the biggest firms from advising on takeovers and the sale of bonds and stocks fell last year to the lowest since 2009.
"Credit Suisse is quite geared toward trading," said Arun Melmane, an analyst at Canaccord Genuity Corp. in London. "They're still not top-notch in terms of deal advisory."
The firm has lost senior bankers. UBS hired Laurent Bouvier, a 16-year Credit Suisse veteran who will lead its global industrial group, and Martin Henrichs, who will head business with health-care companies in Europe, the Middle East and Africa.
Bankers in London and New York are anxious about the changes Thiam may make and their future at the investment bank, spurring an influx of resumes at recruitment firms, said a senior headhunter who asked not to be identified.
Gaining Share
Credit Suisse already has fewer senior bankers in Europe than competitors after scaling back to try to ensure the region was profitable, said two bankers with knowledge of the matter, who asked not to be identified. Recovering lost market share in advisory can take years.
The investment bank has focused on boosting returns rather than league-table rankings, said Warner, adding it remains committed to clients in the region and filling gaps in coverage.
One bright spot is equities trading. Credit Suisse ranked second by market share in cash equities last year, up from third in 2012, according to analytics firm Coalition Development Ltd. The business had the highest return on capital at the investment bank last year.
Dougan, Credit Suisse's CEO since 2007, has already trimmed the investment bank, scaling back activities such as interest-rate trading and exiting commodities.
Profitable Subsets
He cut assets weighted by risk at the businesses the bank wants to keep by half since 2010. The return on capital of those activities rose to 17 percent last year from 10 percent four years earlier. Apart from the macro unit within fixed income that's being scaled back, the remaining three businesses beat the group's profitability target in 2014, Deputy Chief Financial Officer Charlotte Jones told investors last week.
"Contrary to the belief that many people hold that fixed income is not a good business, there are subsets of the asset class that are very profitable," said Warner. "All of our businesses face pressures, be it regulatory or competitive pressures, and we've been seeking ways to expand franchises with the best returns."
Investors have shown little appreciation. Credit Suisse has fallen 27 percent in Swiss trading since the end of 2010, while UBS gained 21 percent.
"Everyone says you have to exit those businesses, get out, and three years later everyone will ask, why didn't you stick with it?" said Peter Stenz, a fund manager at Swisscanto Asset Management AG in Zurich. "I don't expect a revolution."
Before it's here, it's on the Bloomberg Terminal.
LEARN MORE