Clegg Set to Lose Seat in U.K. Election, Poll Shows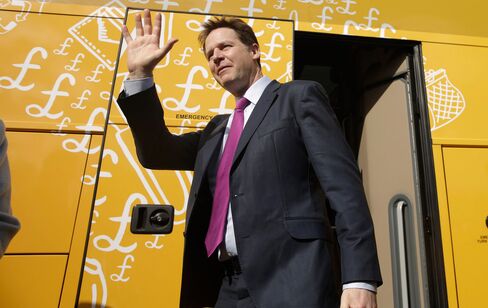 U.K. Deputy Prime Minister Nick Clegg may struggle to retain his parliamentary seat in the May 7 general election, according to seat-by-seat polling by former Conservative upper-house lawmaker Michael Ashcroft.
Clegg's Liberal Democrats trail the main opposition Labour Party by 34 percent to 36 percent in his district in the northern English city of Sheffield, according to the surveys, which examined eight swing constituencies, seven held by Liberal Democrats and one by Prime Minister David Cameron's Conservatives. The polls, published Wednesday, didn't name candidates in the individual districts, and Labour's lead is within the margin of error.
"Things still look uncomfortable for Nick Clegg in Sheffield Hallam," Ashcroft wrote on his website. Even so, "the Lib Dem vote was significantly higher in all seats when respondents were asked to think about their own constituency and the candidates likely to stand there."
Britain is facing its most uncertain election in a generation, with polls indicating neither the Tories nor Labour winning enough seats to govern alone. The Liberal Democrats have been polling at around 8 percent nationwide -- just over a third of the 23 percent they scored in 2010. That threatens the loss of about half of the 57 seats they won last time in the 650-member House of Commons.
Overall, though, the Ashcroft polls show the Liberal Democrats gaining ground since September, when he last surveyed the constituencies. The latest surveys suggest they may retain four of the seven seats they already hold, compared with just one six months ago, though three are within the margin of error.
Seat Breakdown
The polls indicate the Conservatives will retain Camborne & Redruth, and win North Devon and St. Austell & Newquay -- all three in western England -- from the Liberal Democrats. They suggest Clegg's party will hold on to three other western seats -- North Cornwall, St. Ives and Torbay -- targeted by the Tories, as well as the Labour target seat of Cambridge.
In all six Conservative-Liberal Democrat battleground seats, Ashcroft found support fell since September for the U.K. Independence Party, currently polling third nationally.
Before it's here, it's on the Bloomberg Terminal.
LEARN MORE