China Housing Seen Recovering in Second Half of 2015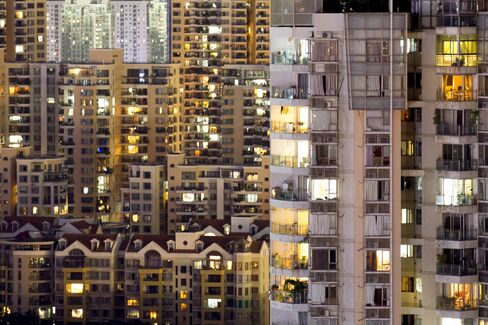 It took Yang Yankun and his colleagues at Homelink Real Estate Agency Co. in Shanghai more than a year to sell a 1.5 million yuan ($241,620) apartment in February. Three other units sold in the same month at deep discounts.
"March and April are traditionally good months, but March hasn't been as good as I expected," Yang, a broker, said. "We haven't seen one home sell quickly."
China loosened home-buying rules on March 30 to revive a slumping market that's weighing on economic growth. Two interest-rate cuts since November and the removal of curbs by local governments have failed to boost demand as inventory has swelled to more than six years of sales, BNP Paribas SA estimates. Home purchases have plunged this year and prices in 100 cities tracked by SouFun Holdings Ltd. have extended their declines.
The People's Bank of China on Monday lowered the minimum down payment for second-home buyers who are repaying their first loans to 40 percent from 60 percent. The government also exempted some homeowners from paying a 5.5 percent sales tax if they sell after two years. That's a change from five years.
"This is positive," said Yang Zhao, Hong Kong-based chief China economist at Nomura Holdings Inc. "We now see the pace of the property market correction stabilizing in the second half."
Lower Rates
The central bank began in 2014 to reverse its four-year effort to tighten lending and cool the housing market. In late February policy makers cut the benchmark interest rate on loans longer than five years, which lenders use to price mortgages, by 25 basis points. That followed a rate reduction of 40 basis points in November.
While those moves brought the benchmark to the lowest since October 2004, mortgage rates have room to drop. The cost of borrowing, which takes into account discounts from lenders and changes in inflation, remains as much as 200 basis points higher than the 0.7 percent to 1.7 percent level in 2009, when the central bank rate was similar to today's, according to Robert Fong, a Hong Kong-based property analyst at Bloomberg Intelligence.
The easing of credit has yet to buoy the market. New-home sales dropped 17 percent in January and February from a year earlier. Prices fell 0.2 percent in the first three months of 2015 after sliding 2.7 percent last year, according to SouFun.
Slowing Growth
"Bulls had hoped that the lifting of prior restrictions on property transactions combined with falling prices would trigger a rapid revival of demand," BNP Paribas economist Richard Iley wrote in a March 18 note. "These data show how forlorn those hopes are."
Amid the housing slump, Premier Li Keqiang in March forecast the slowest economic expansion in China in 15 years. Industrial output in January and February rose 6.8 percent from a year earlier, the slowest start to a year since 2009, while investment and retail sales growth missed analyst estimates during the two-month period.
"The property market is the major drag for growth," said Zhao of Nomura.
China now has a glut of unsold homes on the market. The latest tally by the Survey and Research Center for China Household Finance of 28,000 households in 29 provinces indicated 22 percent of urban homes were vacant in 2013.
Inventory Grows
Unsold new homes jumped 26 percent last year to 406.8 million square meters (4.4 billion square feet) as of Dec. 31, government data showed. That doesn't include the housing already under construction, which in the top 10 cities amounts to more than three times 2013's new supply, Credit Suisse Group AG analysts led by Hong Kong-based Du Jinsong wrote in a report Jan. 5.
"When the property market is in oversupply and when there's no investment demand, real residential needs are not strong enough to support a recovery," said Gan Li, director of the Chengdu-based center, which surveys Chinese families' finances and investing behavior.
The lower down payment requirements may unleash demand for 640,000 homes, Gan estimated. Allowing borrowers to take more money out of housing providence funds, also part of the central bank's March 30 action, can generate demand for 2.52 million apartments, he said. Cities operate providence funds that pool money from urban residents and their employers for rental and down payments.
'Relatively Pessimistic'
Even with these measures, "property will remain sluggish for the long term," Gan said. "I'm relatively pessimistic."
More than 56 percent of respondents in a Sina.com online survey said they won't buy a second home after the down payment was cut because prices are too high.
Yang, the real estate agent, is more optimistic. He said a homeowner who had agreed to sell his apartment backed out of the deal after hearing of the central bank's moves on Monday.
"Homeowners believe the policy will lift the market and their homes are worth higher prices," he said. "Within five months, you'll see the change."
— With assistance by Dingmin Zhang
Before it's here, it's on the Bloomberg Terminal.
LEARN MORE