Iran's Shadow Over Yemen Unites Sunni States Behind Bombing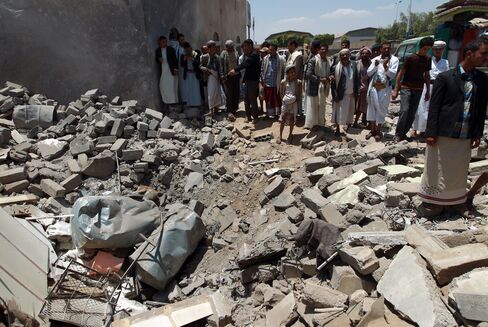 As Iran seeks an end to its isolation, the conflict in Yemen is uniting opponents in the Middle East behind what they see as a renewed threat from the country.
Only six weeks ago, Egypt and Qatar were barely speaking to each other after Egypt's ambassador to the Arab League accused Qatar of supporting terrorism and the Gulf state withdrew its ambassador from Cairo. Today, the two countries, as well as other predominantly Sunni Muslim nations with competing interests, have joined or backed a Saudi-led offensive against Shiite rebels in Yemen who they view as Iranian proxies.
The show of unity is rare in a Middle East where four years of coups, protests and shifting borders have served to deepen divisions rather than dismantle them. The conversion of interests by countries including Egypt, Turkey, Saudi Arabia and Pakistan was brought about by fear of the perceived expansion of Iranian influence in the region, according to Shadi Hamid, a fellow at the Brookings Institution in Washington.
"It helps when you have an Iranian threat because then you can find something to agree on," said Hamid. "The real test of the cohesion of the coalition will be when things start going downhill and not in this early phase when the momentum is on the side of the coalition that's intervening."
'Critical Mass'
Saudi Arabia is leading the offensive by 10 predominantly Sunni nations against Shiite Houthi rebels to restore to power Yemen President Abdurabuh Mansur Hadi, who has sought refuge in Riyadh. Hadi was driven out of the capital, Sana'a, by the rebels and then fled his last stronghold in Aden.
A Saudi soldier was killed and 10 border guards wounded in a clash with Yemeni gunmen in a border area late Wednesday, according to the state-run Saudi Press Agency.
The Saudis assembled the Sunni coalition to show Iran that while it has influence in some Arab countries, Shiites remain a minority in the rest of the world, said Sami Nader, director of the Levant Institute for Strategic Affairs.
It includes Egypt, the Arab world's most populous nation, Pakistan, a nuclear power, and is backed by Turkey, which has the second-largest NATO army after the U.S.
"They're telling Iran we have the critical mass, we have the demographics and we have the up-to-date firepower that it doesn't have because of the sanctions," said Nader.
Tension Exposed
Turkey, Qatar and Saudi Arabia have been involved in a proxy war against Iran in Iraq and Syria and now in Yemen, according to Nihat Ali Ozcan, an analyst at the Economic Policy Research Foundation in Ankara.
While Turkish President Recep Tayyip Erdogan's public criticism of Iranian dominance has exposed tensions, "it is not clear how Turkey's alliance with Qatar and Saudi Arabia will shape and what they can do differently to curtail Iran's influence," added Ozcan.
The airstrikes on the Houthis, which started a week ago, followed remarks by officials in non-Arab Iran about their country's increasing clout as negotiations continue with world powers over an end to the sanctions.
Ali Younesi, adviser to Iranian President Hassan Rouhani, on Feb. 23 referred to neighboring Iraq as central to the country's identity and culture, according to the semi-official Mehr News. He was later summoned to a Tehran court and accused of acting "contrary to national security," according to another news agency with links to the government.
Training Houthis
Gulf countries have evidence of Iran's intentions to expand its influence, according to a Gulf diplomatic official, who spoke on condition of anonymity to discuss confidential information. About 5,000 fighters from Iran and its proxies, including Lebanon's Hezbollah and Iraqi militias, are training the Houthis in Yemen, he said last week.
Beyond Iran, coalition members and supporters have their own reasons to back the Saudi-led effort.
Turkey and Qatar are traditional supporters of the Muslim Brotherhood in the region and the group's Yemeni branch, Islah, has taken a beating with the Houthi advance. Saudi Arabia, the United Arab Emirates and Egypt, which strongly oppose support for the Muslim Brotherhood, have other reasons.
The Houthi threat was too close to home for Saudi Arabia and the UAE to ignore. Egypt will be affected if the Bab el-Mandeb strait is closed. The strip of water is located between Yemen and Djibouti and Eritrea and gives oil tankers access to the Red Sea as well as the Suez Canal.
"It's a rare show of unity but it doesn't mean that differences have been forgotten," said Ghanem Nuseibeh, founder of Cornerstone Global Associates, which advises clients on risk in the Middle East. "It's unlikely to be everlasting."
An alliance of Arab countries in a much larger coalition led by the U.S. in 1991 to drive Iraq out of Kuwait dissolved immediately afterward when the countries went their separate ways, said Nathan Brown, professor of political science and international affairs at George Washington University.
"The presumption should be if people in the Middle East can disagree, they will disagree," said Hamid at the Brookings Institution. "That's just always the way things seem to turn out to be."
Before it's here, it's on the Bloomberg Terminal.
LEARN MORE