America's Oil Inventories Rise for the 12th Straight Week
More oil in storage than expected
America's oil in storage just hit another record after rising for the 12th consecutive week.
Stockpiles rose 4.77 million barrels, or 1 percent, to 471.4 million barrels last week, the EIA reported today. Analysts had expected an increase of 4.18 million barrels. The amount of oil the U.S. is cranking out edged down slightly—the first decline in almost two months—to a rate of 9.39 million barrels a day.
Investors have been closely watching the oil gather in storage tanks, which has been rising steadily since the price crash started last year. Stockpiles are more than 25 percent above their five-year average. Inventories aren't likely to max out, but even the possibility of coming close is adding pressure to an oversupplied oil market.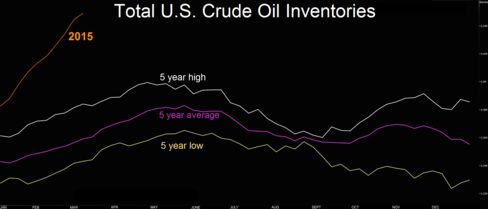 This week, CME Group Inc. started offering the first futures contracts in oil storage space. Oil cavern space in Louisiana sold for 10 cents a barrel a month at an auction yesterday, putting a price on storage as domestic crude supplies remain at record highs.
Oil production remains near its highest since 1972, even as rigs out drilling for new oil have plunged dramatically.
http://www.bloomberg.com/graphics/2015-oil-rigs/embed.html?title=1
Read this next:
Before it's here, it's on the Bloomberg Terminal.
LEARN MORE